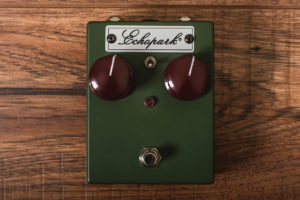 Echopark F-2 Dual Stage Fuzz
This artfully minimalistic unit wants to take us back to the birth of fuzz – Richard Purvis sets the dials for the heart of retro raucousness.
If you don't think this pedal looks cool, you might want to get your eyes tested. A chunk of battlefield green-painted steel with two giant knobs, and no further ornamentation beyond the maker's name on a metal plate – it's the sort of thing you could imagine finding at the back of a cupboard in Abbey Road.The post Echopark F-2 Dual Stage Fuzz appeared first on Guitar & Bass.
Source: www.guitar-bass.net