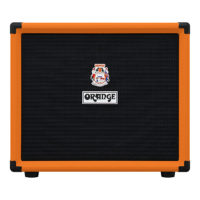 Orange revives Terror Bass and offers new cab
Orange has redesigned its Terror Bass head and reintroduced the model to the range. 'The uncomplicated, external layout of the Terror Bass is like the original with the addition of a clean switch,' Orange says. 'Inside it is a 500W hybrid bass amp with an all valve preamp and a solid-state power amp. This gives it a sound akin to the Orange flagship bass amp, the AD200 with the added advantage of allowing bass players to back off some of the gain early in the input stage offering them more headroom and smooth clean sounds'.
Played through an 8 ohm cabinet the Terror will deliver 250 Watts – 500 when used with twin cabs. A Limiter Switch protects the amp by preventing the output stage from pushing too hard into 4 ohms when using 500W of power. The Pad Switch helps players adjust input sensitivity by up to 6dB: '…making it the amp perfect for active or passive basses,' Orange claims.
At the same time, the company announced anew bass cab, the OBC112, which features a Lavoce Neodymium 12" Speaker. 'These thump out a remarkably hefty sound, producing plenty of volume and a surprising amount of bottom, particularly when stacked. Built for the bass player who needs some firepower, from classic rock to thrash metal, this cab can handle anything while delivering excellent performance every time,' Orange says.
Info: https://orangeamps.com/
The post Orange revives Terror Bass and offers new cab appeared first on Music Instrument News.
Source: musicinstrumentnews.co.uk