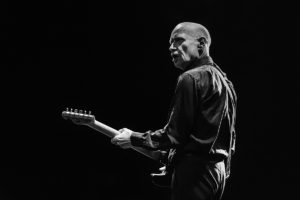 Talkbox: Wilko Johnson
The former Dr Feelgood rhythm king on Teles, jelly babies, determined expressions and avoiding on-stage karate…
Photograph by Simon Reed
1. I couldn't live without my…
"I use a Fender Wilko Johnson Telecaster. I've still got the 1962 Telecaster that I bought in 1965 – my first proper guitar, and the 1962 Telecaster I used from Dr Feelgood times until Fender made my Tele, which is based on a standard 1962 model. I've also got a 1962 Stratocaster. That's more or less all the guitars I've ever owned. I love them all – but the Wilko Tele is the one I use."
2. In another life I'd have been…
"I wanted to be a painter – I had to choose between that and rock 'n' roll when Dr Feelgood took over my life. What do you want to do – starve in a garret painting masterpieces, or ride in a Cadillac and get all the girls?"
3. The moment it all started…
"I think I just drifted into it. There wasn't a moment."
4. The one that got away…
"There's not really a guitar that got away. I've still got the only four guitars I ever had, and they're easily replaceable should I lose them!"
5. My Spinal Tap moment…
"I was on stage at Wembley stadium in 1972, backing the pop singer Heinz at the big Wembley rock 'n' roll show. I'd never played anywhere bigger than a pub back room, so Wembley stadium was nervous-making. I was getting on okay, but then Heinz threw an Elvis-style karate kick in my direction and knocked every string on my guitar right out of tune. It was like a bad dream trying to get back in tune while the show went on in front of this massive audience. Bad dream."
6. The best advice that I've ever been given…
"Whether through stupidity or egotism I never listen to advice, but here's mine – 'If you play a bum note, keep a determined expression on your face and glare at the keyboard player'."
7. The first thing I play when I pick up a guitar…
"I very rarely pick up a guitar – even my own. But I suppose if I did pick up a new one, I'd bash out some familiar riff of my own to see how it played."
8. The most important thing on my rider…
"Jelly Babies! They're useful for raising blood sugar levels, as I'm diabetic. Actually they usually get pigged by the band and crew…"
9. My guilty pleasure…
"The 12-bar blues. It's a pleasure because it's just about all I can play. And I ain't guilty 'cause I ain't to blame. Just three chords and I ain't ashamed!"
10. If I could just play one thing…
"There are many songs I can't play. My style is quite simple and rather limited, so I leave the tricky stuff to other people!"
Wilko Johnson's new album, Blow Your Mind, is out now.The post Talkbox: Wilko Johnson appeared first on The Guitar Magazine.
Source: www.guitar-bass.net