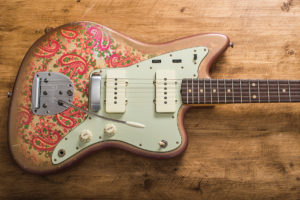 The Money Shot: Fender Custom Shop Jazzmaster
Our encounter with this month's subject of The Money Shot was one of those heart-stopping moments that makes you consider selling two or three guitars to finance the kind of sublime and endlessly inspiring musical instrument that only those at the very pinnacle of their craft can offer.br>br>br>br>br>
Fender Custom Shop Masterbuilder Paul Waller is one such luthier and this Journeyman Relic in Gold Paisley is a virtuoso rendition of a guitar that, as even its biggest admirers will admit, can often be something of a rollercoaster ride when it comes to stability and playability.br>br>br>br>br>
Not so here – with an exquisite '65 C neck profile that's been artfully aged to feel like an old friend, even the Jazzmaster's much-maligned vintage-style bridge behaves itself, while the hand-wound pickups offer a delicious and engaging mixture of twang and harmonic complexity.br>br>br>br>br>
Hear it in action over on YoutTube at youtube.com/theguitarmagazine, where we put the Fender through its paces alongside a pair of stompboxes from SolidGoldFX and a magnificent Carr Skylark combo. At the time of writing, this guitar is still available for £5,499 from Coda Music in Stevenage. It might be well into vintage Jazzmaster money, but you'll struggle to find an old one as good as this…The post The Money Shot: Fender Custom Shop Jazzmaster appeared first on The Guitar Magazine.
Source: www.guitar-bass.net