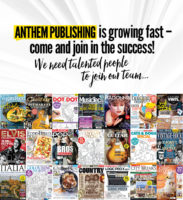 Vacancies at Anthem Publishing
Anthem is the UK's fastest growing magazine publisher and is set for continued growth throughout 2017.
As part of our expansion, this Spring we're launching Long Live Vinyl as a monthly magazine and turning Classic Pop from a bi-monthly to monthly – plus other exciting new developments. We need talented people to join our team to help make this happen.The post Vacancies at Anthem Publishing appeared first on Guitar & Bass.
Source: www.guitar-bass.net