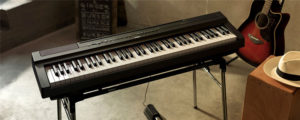 Yamaha debuts new ultra-portable P-121 piano
Yamaha has announced an all-new highly portable piano, the P-121. Offering 73 keys (as opposed to the standard 88) Yamaha says that it nevertheless retains: '..the precise hammer weighting felt when playing an acoustic grand. This combination of piano feel and a compact footprint is set to bring unmistakeable Yamaha quality to those demanding the perfect blend of portability, musical power and unbeatable value for money'.
At the heart of P-121 is the sound of a Yamaha concert grand piano, the maker claims, which joins 23 other instrument voices ranging from the electric pianos of the '60s, '70s and '80s through to strings, classical organs and the the harpsichord. These can be combined or split across the keyboard for performance flexibility. Continuing the versatility, P-121 also features a broad variety of rhythm and bass tracks.
Highly portable, at just 10kg in weight, the P-121 boasts a speaker system which Yamaha has enhanced with a new "Table EQ" feature ensuring it always sounds its best – whether on its optional home stand, on stage or on a table in the living room.
Also part of the package, the P-121 includes a multitrack recorder, alongside the ability to transmit MIDI and digital audio to a computer using a single USB cable. It is also app enabled. The user can simply connect an iOS device via USB. The Smart Pianist app from Yamaha can not only control every aspect of the piano's features in rich detail, it can also access the player's own music library and automatically create chord tracks for his or her favourite tracks.
The P-121 is available in both black and white.
Info: uk.yamaha.com
The post Yamaha debuts new ultra-portable P-121 piano appeared first on Music Instrument News.
Source: musicinstrumentnews.co.uk