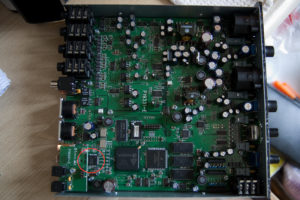 Konnekt no blue light revival guide
Hello guys.
After a decade of use, my Konnekt Live decided to die on me. At least the firewire bit did – no blue light, all other preamp functions worked fine.
I wrote to TC support and they were kind enough to guide me to what might be actually fried.
If you happen to experience the same problem, the cuplprit is the TSB41AB2PAP chip (if you have 2 firewire ports on your device)
I managed to source this chip for 6 bucks (https://pl.aliexpress.com/item/Free-shi … 11722.html), and a local laptop repair center soldered it for 10 bucks, so I have a fully functional interface for 16 bucks.
Same goes for any other TC intereface, but the chip might be different.
I hope this helps.
Source: http://forum.tcelectronic.com