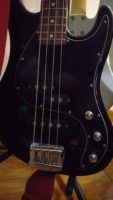 Marketing strategy for the Cutlass/Caprice
Greetings All,
As I'm sure most of you know I absolutely love my Caprice bass. The playability, the tone, oh yes and the weight(8.3lbs)! The 1.5" nut width and 7.5″ fretboard radius make playing truly effortless. That in my mind is the hallmark of a great instrument…when it plays effortlessly. Tonally, it has that nice subtle low mid bump courtesy of the neck pickup and the bridge pickup gives it an extra layer of harmonic richness. I've played many PJ's in my days and this is by and far away the best.
Over the last few days I've been thinking how to really get the word out about this bass. What drew me to it is i've always loved EBMM instruments but just prefer the sound of a passive bass. I'd check the EBMM site occasionally to see what they have going on and that's how I found out about the Caprice. My concern is that for people who love that old school vintage tone EBMM might not even register on their radar because it's been associated with only active basses for the last 40+ years. They might miss out on this wonderful instrument and I really don't want to see sales numbers drop and this line cancelled.
IMHO, when EBMM showcases this bass at shows or conventions I think they should really drive this message home. "This is the most tonally versatile, highest quality instrument in this configuration being offered in this price range. It will blow you away!" Something to really catch people's attention and draw the passive guys in. When we look at the closest bass with similar features offered in this price range its closest comparison is the G&L SB-2. But to me they are not comparable tone wise because of those MFD pickups. Those pickups are hot and aggressive unlike the Caprice's mellow and warm pickups. Don't get me wrong I love my G&L JB but there is a reason I didn't get the SB-2. I wanted a warm tone 🙂
These are just my preliminary thoughts I know the community will be able to offer excellent suggestions. I definitely want these basses to stick around and sell well because then there is a greater chance a fretless will be offered. 🙂
Best Regards,
-Greg P
P.S. Here she is 🙂
Source: http://forums.ernieball.com