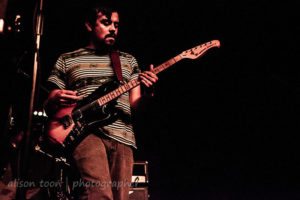 Strange Vine
I went to see Robin Trower last night at the Wiltern Theater in Los Angeles. He still kicks ass on guitar by the way. The opener was a 2 piece band called Strange Vine.
They were an interesting group as the drummer played drums with his right hand and keyboard with his left. He sang too. The guitar player was pretty good… kinda sorta reminded me of Jack White… rather eclectic Americana sound with some psychedelic effects. Interesting thing was, he was playing a pre-Ernie Ball Music Man guitar, looks to be an old Sabre. I don't think I have ever went to a show when the guitar player was playing an old Music Man. Anyway, I thought it was interesting.
Not my photo, got it from the web.
Source: http://forums.ernieball.com