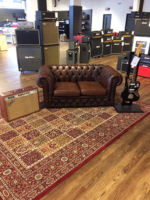 Birmingham's Fairdeal Music opens second store on 6th May
Fair Deal Music, said to be the Birmingham's largest independent music store, is celebrating its 30th year by opening a brand new guitar and piano store on Saturday 6th May, with a guest appearance by former Whitesnake guitarist, Bernie Marsden.
The new 7,000 square foot superstore will be just 500 yards and a five minute walk from Fairdeal's current location just over the Pagoda island on Holloway Head.
A general music store, selling everything from brass, woodwind, guitars to DJ equipment and high tech pro audio equipment, Fair Deal will henceforth have two stores.
'Fairdeal Music has been serving the local Birmingham and West Midlands community for the past 30 years including many families, schools, young musicians and famous rock stars. The new store has the largest collection of pianos in the region and a huge amazing tall wall of guitars. Fairdeal Music has over 20 staff many of whom are accomplished, talented musicians who are all very passionate about helping people with their instruments and inspiring good vibes,' the company says.
Info: www.fairdealmusic.co.uk
The post Birmingham's Fairdeal Music opens second store on 6th May appeared first on Music Instrument News.
Source: musicinstrumentnews.co.uk