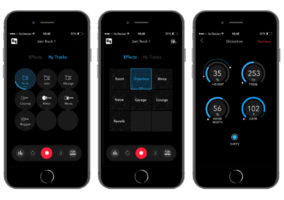 HyVibe announces world's first smart acoustic guitar
French technology company HyVibe Audio has announced the world's first connected 'smart' acoustic guitar. In development since 2011, the HyVibe Guitar uses proprietary vibration technology and a wireless Bluetooth connection to become its own connected speaker, multi-effects processor, recorder, and amplifier, all without cables, amps, or pedals.
'Acoustic guitar players have high standards for natural sound, but also want the features and flexibility of digital,' says HyVibe's inventor, Dr. Adrien Mamou-Mani. 'We address these needs by using the natural vibration of the guitar to create the best possible sounds and add digital control and connectivity to give the player effects, recording, and playback – all within the guitar itself.'
Despite its electronics, the HyVibe Guitar looks and plays just like a conventional instrument and comes with a solid AA spruce top, chosen, the maker says, for the best natural vibrations. HyVibe then introduces proprietary algorithms and multiple actuators to transform the vibrations of the guitar from the top, via the bridge, to add high quality effects. Digital recording and looping features are included for convenient songwriting, performing, and practice. Finally, wireless Bluetooth technology is embedded as well as an Android and iOS App, connecting the guitar straight into most communications, recording and other music technology.
'Based on years of research, our technology fuses the world of acoustics and digital in a way that has never been done before. Since we excite our guitar by the bridge, the origin of the digital sound is practically the same as the natural excitation by the strings. When the live sound, the effects, and the backing tracks are all coming from the guitar itself, it's a unique experience that the player can really feel,' adds Dr. Mamou-Mani.
Interestingly, the acoustic guitar is just one of several traditional instruments that the company's technology is being applied to. HyVibe know-how has also been embedded on instruments such as the viola, violin, cello, the trumpet mute, drums, and the trombone and has been performed on instruments in concert halls such as the Paris Philharmonic and the SESC in Sao Paolo, Brazil.
The first production models are being sold now via Indiegogo.
Info: www.indiegogo.com/projects/hyvibe-the-world-s-first-smart-acoustic-guitar
The post HyVibe announces world's first smart acoustic guitar appeared first on Music Instrument News.
Source: musicinstrumentnews.co.uk