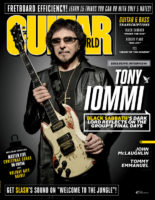 January 2018 Guitar World Gear and Lesson Videos
These lesson videos are bonus content related to the January 2018 issue of Guitar World. For the full range of interviews, gear reviews, features, tabs and more, pick up the new issue on newsstands or at the Guitar World Online Store.
Note: We're actually posting this landing page a little early this month, so not all the January 2018 videos are available yet. Please give it a day or two till all the lesson videos are added!
Review: Dream Studio Sparkler Alain Johannes Signature Guitar
Joel Hoekstra: How to Add "Color" to a Short Series of Notes Using 15 Different Techniques
Happy Axemas! How to Play Five Classic Christmas Songs on Guitar
Source: www.guitarworld.com