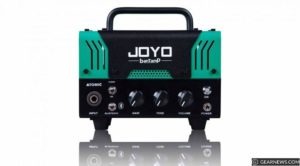 JOYO the Atomic 20W head – Latest in the BAnTamP range
JOYO has just announced the new and eminently affordable BanTamP Atomic Bluetooth mini tube guitar amp head. This dual-channel 20-Watt valve head is voiced with very British rock tones and comes in an ultra compact micro-head format, maximising appeal for the travelling guitarist.
Atomic
Following on from its series of micro amp heads, this latest release is again yet another British-flavoured 20W amp head based on the 12AX7 tube. We understand this effort is based upon a Vox Ac30, rather than the Marshall of the Jackman model.
The amp is powered by a single 12AX7 valve. 20 Watts is enough to drive most cabs via the speaker output rated at 8Ω, so this box could be a contender for players that need to travel light. The Bluetooth capability allows you to stream audio to the Atomic for, say, playing along to a backing track.
The controls consist of Gain, Tone and Volume, which is all you really need on a tiny amp like the Atomic.
Cheap and collectable?
There is no denying that JOYO can make some seriously cheap guitar equipment. This BanTAmP is so low in price that you can almost justify buying a few different ones and keeping them at hand for when you need different amp tones. I think the series as a whole is really well thought out and you may find certain models become quite 'must have' for their characters, of course, time will tell on this, however, I really cannot fault them for the money.
They have an effects loop, enough control to dial them in and they managed to even squeeze in Bluetooth connectivity and still make them a valve powered 20watts output.
I'd like to see BOSS, Blackstar, Marshall or Vox do so much for so little!
Check out the official demo video below.
RRP GBP 139
JOYO BanTamP Atomic product page
The post JOYO the Atomic 20W head – Latest in the BAnTamP range appeared first on gearnews.com.
Source: www.gearnews.com