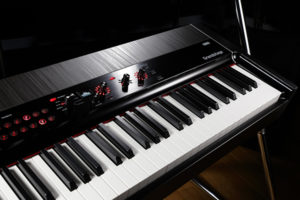 Korg's to stage world exclusive dealer event this month
Korg UK is to hold its first ever 'Real Dealer' event at the end of August, promising a hard-nosed business orientated experience designed to give its UK and Ireland retailers the maximum possible advantages over the coming 12 months.
Speaking to Music Instrument News, Korg's Sales and Marketing Director Ricci Hodgson said: 'We're opening our doors to all our UK and Ireland dealers to come and meet with us ahead of the peak selling season but this dealer event is 100% about business – don't expect to see any dodgem rides or bungee jumps! All our dealers face challenges as the UK enters uncharted territory and we want to be at the forefront of supporting them. I am confident that attending dealers will make a great return on their time investment!'
Importantly, Hodgson promises that the Korg event will include world exclusive launches of new products from both Korg and Vox, as well as offering the chance to see the recently announced Grandstage and G1 AIR Korg keyboards.
'We will have on show new Korg and Vox product that has not yet been released to the world market giving our dealers who visit us, an exclusive opportunity to see and hear some forthcoming products ahead of any other country. The Vox R&D design department, usually cloaked in secrecy, are also flinging open their doors to allow our guitar dealers to meet with the design engineers.
'From Takamine, we will be showing some very special Japanese handcrafted guitars and introducing an exciting dealer initiative which will culminate in a special dealer trip to Mount Takamine in Japan!
'Our percussion team are also looking forward to welcoming our drum dealers and amongst the beautiful new finishes of our Mapex range, the opportunity to visit our exclusive Gong room has to be high on any drummer's agenda!'
The Korg event will take place over two days, 31st August and 1st September, and all Korg dealers are invited, though visitors must RSVP beforehand. The show will be be 'Rock and Roll Circus' themed, a nod to the '60s Rolling Stones film, reflecting the fact that all Korg's featured brands are in the Rock and Roll genre: Korg,Vox, Takamine, Mapex, Paiste and Vic Firth.
Info: www.korg.co.uk
The post Korg's to stage world exclusive dealer event this month appeared first on Music Instrument News.
Source: musicinstrumentnews.co.uk