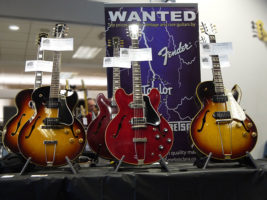 London International Guitar Show romps home at Kempton Park
Sunday's London International Guitar Show, on its second outing at Kempton Park Racecourse in Surrey, was a clear winner according to the organiser, Northern Guitar Shows and its exhibitors, which numbered well in excess of 100 this year.
NGS's Peter Hoarty says: 'It was another spectacular day all round. Visitor numbers about 20% up on last year and we had a lot more exhibitors including several custom builders from Europe since the re-branding from last year. We had doubled the space on the first floor to accommodate the extra exhibitors and both large exhibition halls were packed all day'.
'As well as hosting the regular retailers, distributors and vintage/second-hand dealers our shows have become an ideal showcase for custom builders of guitars, amps and effects wanting to get their ideas and innovations in front of the guitar-playing public and there were some beautiful and interesting creations on display throughout the show.
'We saw lots of product going out through the doors and the dealers were all smiling at the end of a successful day's trading.'
NGS has already announced a date for next year's event – Sunday 28th October 2018, once again at Kempton Park.
The post London International Guitar Show romps home at Kempton Park appeared first on Music Instrument News.
Source: musicinstrumentnews.co.uk