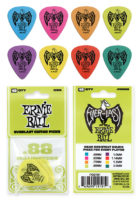 NAMM 2018: Ernie Ball strings etc
With no major new string launches this year, pride of place on the Ernie Ball stand went to a new Expression Tremolo pedal, one of the expanding series of Ernie Ball pedals that have appeared recently.
The main selling point of the Expression Tremolo is that it is designed specifically to deliver foot-sweepable tremolo control, all without the player taking his hands off the guitar. The Expression Tremolo Pedal gives players more sonic expression than traditional stomp pedals in a roadworthy stunning violet and gold gloss aircraft-grade aluminium casing, Ernie Ball says.
Also new are Everlast picks, manufactured from highly durable, wear-resistant Delrin material for a more secure non-slip surface. The new picks are available in eight different thicknesses that are fluorescent color-coded as follows: 0.48mm (Blue); 0.60mm (Pink); 0.73mm (Orange); 0.88mm (Green); 1.0MM (Purple); 1.14mm (Red); 1.5mm (Yellow); and 2.0mm (Teal). The Everlast Picks are also available in 12-pack bags.
There are also new Prodigy picks, also made from Delrin. Two sizes are available: the Prodigy Pick (Standard) and Prodigy Pick Mini, both offered in two thicknesses: 1.5mm (Black) and 2.0mm (white). Ernie Ball says the bevelled edge and sharp point allow for less drag, added articulation and precise control while playing.
Also on the stand was a huge array of new instrument and audio cables, very attractively packaged and a 40th Anniversary Volume Pedal.
Info: www.ernieball.com
The post NAMM 2018: Ernie Ball strings etc appeared first on Music Instrument News.
Source: musicinstrumentnews.co.uk