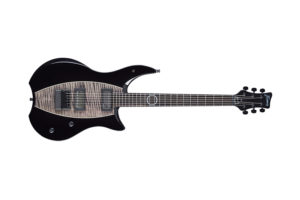 NAMM 2018: Warwick & Framus
Germany's Warwick and Framus promise plenty of new introductions at the show. On the Warwick side led by a bass counterpart to the Framus Idolmaker, not surprisingly to be known as the Warwick Idolmaker Bass and available in four and five string versions. Features include a carved mahogany body, bolt-on wenge neck, wenge fingerboard (fretted models) or tigerstripe ebony fingerboard (fretless models), passive MEC vintage pickups and active Warwick electronics.
This year the Streamer Stage I will be spotlighted at the Custom Shop Masterbuilt Limited Editions. The Warwick Streamer Stage I LTD 2018 is available in four or five string versions, fretted or fretless. The swamp ash body comes with a 1″ top, made of selected European ash burl.
This year's Pro Series Teambuilt Limited Edition model (made in Germany) is the Warwick Streamer LX LTD 2018, with swamp ash body and European ash burl top, as well as Aguilar pickups and electronics, also available as four or fiver string, fretless or fretless.
The Warwick RockBass Corvette Taranis is made in China and has an extra long scale (35″). This four string bass is equipped with ash body, bolt-on maple neck, wenge fingerboard and active EMG Soapbar pickups.
The Warwick RockBass Infinity is available in both four string and five string versions, fretted or fretless. MEC J and MEC MM models are used as pickups, whereby the humbucker can be used serially, in parallel or as a single coil via an additional switch.
A thinline acoustic bass extends the Warwick Alien Bass Series. The Warwick RockBass Alien Deluxe Thinline Hybrid will be available as a four string or five string, fretted or fretless bass. A Shadow Nanomagnetic fingerboard pickup is combined with a piezo system under the bridge for natural sound.
Among the new Framus guitars will be the William DuVall Talisman Signature model, available as a Custom Shop Masterbuilt (handcrafted in Germany) as well as a Pro Series Teambuilt (made in Germany) instrument. Framus says this model was developed in close collaboration with the US musician and lead singer of Alice in Chains, William DuVall. DuVall's new signature model features a mahogany body with carved flamed maple top and inserts and a mahogany neck with tigerstripe ebony fingerboard.
The Framus Devin Townsend Stormbender Artist Series Guitar (Pro Series Teambuilt) is also brand-new and there will be a range of new Chinese made Framus D Series models unveiled.
Info:www.warwick.de
The post NAMM 2018: Warwick & Framus appeared first on Music Instrument News.
Source: musicinstrumentnews.co.uk