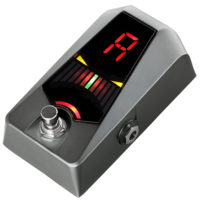 New Korg tuners and metronome on the way
Korg is releasing a host of new tuners and a new digital metronome, all destined to arrive in the UK around April this year.
One of the most stylish of Korg's additions will be the Pitchblack Advance MG Limited Edition pedal tuner, available in metallic grey for a limited time only.
In addition to the colour and what Korg says is a rugged finish, the Pitchblack Advance is lighter in weight and display features high-brightness colour LEDs, nearly doubling the size of the note name display and providing increased visibility. Expected SSP £ 69.00 inc VAT.
Also on the way is a clutch of new clip-on tuners, led by Korg's guitar and bass and OTB Polyphonic models with new OLED display technology.
Korg says: 'The AW-OTG-POLY/AW-OTB-POLY represents the perfect combination of exceptional precision and stunning visibility that guitarists and bassists have been longing for. Each tuner comes equipped with cutting-edge OLED screen technology, allowing the display to be clear, smooth and perfectly visible from any angle. Additionally, its polyphonic tuner function allows you to play all strings at once and know at first glance which strings are out of tune. The AW-OTG-POLY/AW-OTB-POLY tuners offer a brand new tuning experience!'
Expected SSP £ 69.00 inc VAT (Both Bass & Guitar models).
Also in clip-on format and also sporting OLED technology will be Korg's AW-OTG and AW-OTB tuners.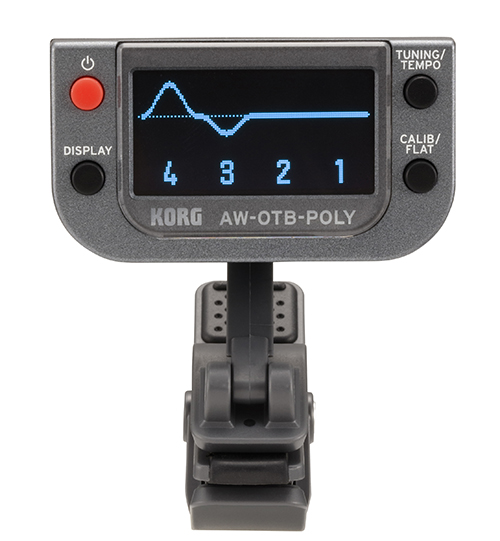 Product Highlights
Cutting-edge OLED display technology provides an unprecedented degree of visibility.
The guitar-specific AW-OTG features intuitive chord finder function.
Bass-specific AW-OTB has been optimized to tune lower notes with more speed & accuracy and includes a tempo finder function.
Ultra-high precision tuning with accuracy as great at ±0.1 cents. Optional STROBE feature further improves accuracy.
Alternative tuning animations included to make tuning fun!
Astoundingly long battery life using only one AAA battery.
Firm and adjustable clip for maximum stability.
Calibration, memory backup and auto-power-off functions.
Expected SSP £59.00 inc VAT (Both Bass & Guitar models).
For the pocket tuner market, Korg will be offering the new CA-50 Chromatic Tuner for traditional orchestral instruments, which boasts improved visibility over it predecessor. Expected SSP £17.00 inc VAT. It will also be releasing the GA-50 Guitar/Bass tuner as an all-rounder for expected SSP £15.00 inc VAT.
Finally, Korg has a new metronome on the way, the digital KDM-3. With a new appearance, the KDM-3 contains a rich variety of beat patterns and metronome sounds, Korg says.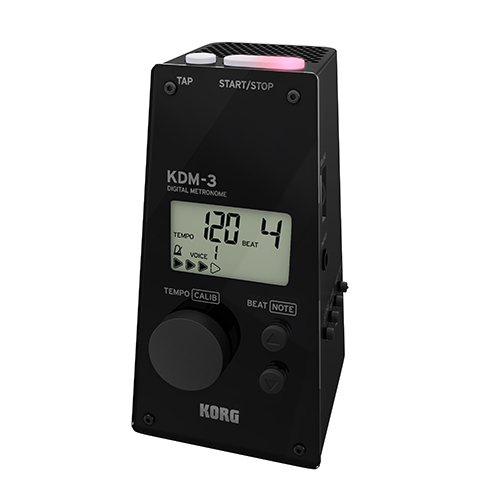 Key features include:
Stylish design that's reminiscent of a mechanical metronome.
Eight metronome sounds, including a mechanical metronome sound.
19 beat patterns support songs of any genre.
Easy one-touch operation and an easily-readable display.
Choose from three types of tempo settings to suit your needs
Sound Out mode lets you tune while listening to a
reference tone.
Timer mode is convenient for practising the basics.
Memory Backup function and Auto Power-Off function.
Long-life design ensures worry-free performance even during extended practice sessions.
Expected SSP £59.00 inc VAT.
Info: www.korg.co.uk
The post New Korg tuners and metronome on the way appeared first on Music Instrument News.
Source: musicinstrumentnews.co.uk