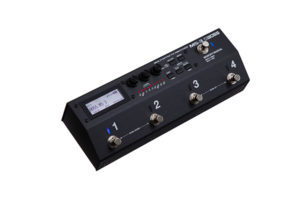 Roland's online launch bonanza debuts new amp and pedalboard
Roland's international online launch event (The Future Redefined – as trailed in MIN 22nd May) has got off to an interesting start for guitar fans this morning, with the launch of the Blues Cube Hot 'British EL84 Modified' combo and the MS-4 multi-effects switcher.
The amp is a special edition version of the popular Blues Cube Hot guitar amplifier. Offered in a classic black look, the Blues Cube Hot "British EL84 Modified" retunes the American tweed sound of the standard amp to produce the voice of a traditional British combo with EL84 tubes, also known as the "class A" sound.
Delivering 30 Watts through a custom 12-inch speaker, Roland says the Blues Cube Hot 'British EL84 Modified' works well for performing, recording, and practice. 'Backed by Roland's Tube Logic design approach, the amp produces all the tonal characteristics that British EL84 combos are noted for, including glassy clean chime, creamy power tube distortion, and a distinctive presence that cuts through any band mix.'
The second launch this morning was the Boss MS-3 Multi Effects Switcher, a new-concept pedalboard switcher that Roland claims maximises creative options for guitarists and bassists.
'Combining a flagship Boss multi-effects engine and multi-pedal switcher in one small, integrated unit, the MS-3 enables anyone to put together a professional effects system that's light, compact, and versatile enough to achieve nearly any sound imaginable,' Roland says.
The MS-3 can run up to six internal pedal effects at once while seamlessly integrating three of the user's favourite external pedals. It includes 111 onboard effects types, plus a dedicated noise suppressor and built-in tuner. The MS-3 offers deep rig control capabilities as well, allowing users to switch amp channels, adjust effects in real time, work with MIDI devices, and more.
The MS-3's heavy-duty footswitches provide easy command of the entire system. There's a backlit LCD that clearly shows patch/bank numbers and parameters, plus dedicated knobs for editing and status indicators for all loops and effects. And with 200 patch locations, there's ample memory for storing effects and control setups for instant recall.
With the free MS-3 Editor/Librarian software, users can edit effects, assign control parameters, set tempos, and more from their computer. The software also makes it possible to back up and restore patches, and organize them into Live Sets for various gigs.
Info: www.boss.info.
The post Roland's online launch bonanza debuts new amp and pedalboard appeared first on Music Instrument News.
Source: musicinstrumentnews.co.uk