Summer NAMM 2017 – Universal Audio Ox Amp Top Box
The new Univeral Audio OX reactive load and speaker simulator is a solution to the issue of how do you get a great cranked valve guitar amp tone, without destroying your hearing and pissing off your neighbours.
Reactive load box
Anyone that owns a valve amp should know by now that they require a load, which means that essentially you have to attach a speaker to the output or you will damage the amp circuit. As the speaker is part of the circuit and without one attached you can do some 'bad things' to your beloved amplifier without realising it.
The Ox is a reactive load box that simulates what your valve amp is expecting to see at the speaker output of your guitar amp and replaces the whole mechanical function of your speaker, dissipates all that energy and allows you to then feed the amp signal into its own internal speaker simulator. This means you can now record the guitar amp at 'full tilt' and simulate with the virtual speaker cone all that air being pushed (usually towards a microphone or your ears) and therefore record it all easily, without getting deafened in the process.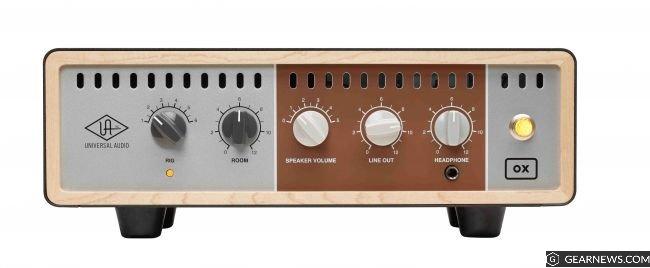 Univeral Audio OX reactive load and speaker simulator
Simple?
On paper, this all sounds easy enough, but in reality, it can be a real nightmare of a job. This is because speakers are pretty complex and have all sorts of tonal characteristics that affect how your guitar sounds when fed through a valve amp.
Universal Audio has used presets that offer both microphone and studio room emulations, whilst their Dynamic Speaker Modelling emulates speaker breakup and what is known as cone cry. These last two are speaker terms for when your speaker is essentially adding to the distorted guitar tone, as it is near the peak of its performance and these limits just make an amp sing (or sometimes explode, when you kill your cones…)
Features
The Ox has Universal Audio's EQ, compression, delay, and reverb effects built-in and has selectable 4, 8, and 16-ohm operation so should work with just about any guitar amp. The front panel has a handy headphone out and there are both balanced TRS line outs and S/PDIF digital outs for recording on the rear.
You can also pair with the UA OX mobile or desktop app over Wi-Fi for editing and saving of your presets, this could be quite useful, especially if you are seriously into recording and run a small studio, as in the long run could save you a lot of time with setups.
Recording on a budget
I have not tried this one out obviously and the demo video below is lacking in specifics on what exactly is going on. If this can do what it says, then it could be a great tool for smaller studios that don't have big live rooms and also anyone recording at home.
The Ox isn't exactly cheap, but if you are in the business of recording guitar amps, then neither is a set of decent microphones and studio rental rates either.
RRP USD 1,299 due later this year
Universal Audio Ox Amp Top Box product page
The post Summer NAMM 2017 – Universal Audio Ox Amp Top Box appeared first on gearnews.com.
Source: www.gearnews.com