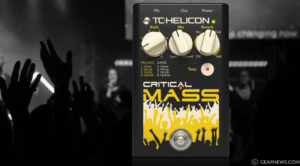 TC Helicon Critical Mass pedal: Vocal FX you can stomp on
The new TC-Helicon Critical Mass pedal is designed for live use and comes in a handy guitar pedal format which is easy to use when you are busy performing. But this pedal might not be for everyone…
Gang Vocals
You want to sound like your horde is behind you in the chorus? Kick in Gang Vocals mode and you'll sound like the band behind you is massive! It also includes a reverb, with three 'studio grade' algorithms to choose from. When combined with 'Gang Vocals' mode you could either sound huge – or just look really stupid. You'd want to think twice about using it playing down the 'Dog & Ferret' on a Friday night at open mic night…
Specs
The Critical Mass pedal can be run off of phantom power or a couple of AA batteries. You can use it with inbuilt setting for a few specific microphones including TC-Helicon MP-75, MP-76 and Sennheiser e835 FX mics. The inbuilt mic preamp is a low noise design (that's handy, no really it is…ahem) and it seems to be ruggedly built with its metal chassis.
Apart from four 'Gang Vocal' settings you also get another four melodic choir settings as well as those aforementioned three reverbs. The tone stack is called Adaptive Tone, but TC they haven't really said what that means exactly…
It's an interesting take on vocal effects, I'll give them that. But I'm not exactly the target audience for this unit, and I think you'll be in danger of looking like a right tit using one at a small gig! Just watch the official demo video below to see exactly how ridiculous you might look using this pedal. Use with caution…
RRP €149
TC Helicon Critical Mass product page
The post TC Helicon Critical Mass pedal: Vocal FX you can stomp on appeared first on gearnews.com.
Source: www.gearnews.com