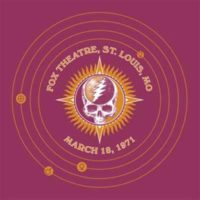 The Grateful Dead's 50 Best Live Performances: An Excerpt
Two years removed from the Grateful Dead's 50th anniversary celebration and the triumphant "Fare Thee Well" stadium concerts in their native San Francisco Bay Area and in Chicago, the surprising, resurgent Deadmania has not subsided.
Indeed, the events of that year seem to have both rekindled the ardor for the group's music in many Deadheads who dropped off the psychedelic bus following Jerry Garcia's death in the summer of 1995, and also brought in many new fans who never had a chance to see the band but are attracted by the Dead's amazingly diverse and appealing songbook, and the colorful, upbeat, Sixties glow that will forever surround the group.
The ongoing success of the many Phil Lesh & Friends lineups and, more recently, Dead and Company, featuring newish Dead convert John Mayer (playing with Bob Weir and Grateful Dead drummers Bill Kreutzmann and Mickey Hart), show that the Dead's legacy is very much intact and that the music is continuing to evolve.
The individual musicians in the Grateful Dead were never poll winners in music magazines, yet you would be hard-pressed to find a rock group with a core so adept at playing so many different styles—and always in an improvisational context.
They drew from electric and country blues, oldtime and bluegrass, jazz, rock and roll, soul, funk, Indian, New Orleans R&B, electronic and classical music; nothing was off-limits. Each of the musicians brought in different influences and forged his individual style. Nobody sounded quite like Garcia (often imitated, never duplicated), and the same could be said of Bob Weir, whose designation as a "rhythm guitarist" is hopelessly inadequate given the sophistication and depth of his playing.
Their styles couldn't be more different, but they were completely sympathetic players, tightly enmeshed and equally in sync with bassist Lesh (another utterly unconventional player) and the drummers.
They brought it all together in a unique mélange that took them from the fire-breathing psychedelia of the late Sixties, to the Dead Americana of Workingman's Dead and American Beauty, and far beyond. Along the way they built the most loyal fan base the music world had ever seen.
What follows is a selection of the best live versions of 50 songs by the Grateful Dead (and a few cover tunes) spanning their history.
Why live performances? Because that's where the magic happened with this band. Everyone, including band members, will tell you that studio albums never quite captured the Dead's mystical X-factor. So, live recordings it is. Fortunately, the Dead had the largest archive of live tapes of any band ever, so there is much to draw from. The difficulty, of course, is narrowing it down to just 50. After all, hardcore Deadheads would argue that 50 versions of "Dark Star"—each different as can be—could be a list in itself.
And the fact is, this does go beyond 50: As you'll see, for a number of tunes, there are second and third picks based on eras—songs such as "Dark Star," "Playing in the Band," "The Other One" and a few others changed radically from one period to the next (influenced by the change in keyboardists and other factors), so versions from each epoch get a nod.
As for the criteria for the choice of songs—most are ones that, over time, were most variable night to night either because of the jamming in them or the intensity of the vocal delivery, or some other elevating force. So why not have "Sugar Magnolia" here? Or "Deal"? Or "Touch of Gray"? Surely there are multiple versions of each that fit those categories. Of course there are, and so it is with nearly any tune you'd care to mention that is not here. Such are the cruel realities of list-making.
A couple of final notes: The songs are listed in chronological order by performance date. For the main picks, we've listed where they can be found on Grateful Dead–sanctioned releases (where applicable), most of which can be accessed through Apple Music and Spotify. But here's the cool news: There's a fantastic web site called headyversion.com that is the ultimate resource for listening to the "best" versions of Grateful Dead songs.
Not only do they appear in order of popularity according to hundreds of folks who have weighed in on their favorite versions of just about every song in the Dead cannon—280 versions of "Eyes of the World," 27 versions of "Liberty," 59 versions of "Jackaroe," etc.—but the site also provides direct links to archive.org's immense vault of Dead performances, so you can hear them all in just a couple of mouse-clicks.
Of course, there is no true consensus on any of this, but it is fair to say that there is widespread agreement that certain versions of certain songs would probably make most discerning Deadheads' lists. Similarly there is general agreement on the Dead's peak performance periods: 1968–1974, 1977, 1981–'82, 1988–'90; you'll find a heavy concentration of Seventies performances here. In the end, though, opinions about "best" anything are always going to be completely subjective and also probably change over time.
NOTE: This excerpt spotlights selections 5 to 1. For all 50 picks, check out the new April 2017 issue of Guitar World, which is out now!
5. THE ELEVEN
August 24, 1968; Shrine Auditorium, Los Angeles, CA ………. THIS SONG/JAM was only around for about two years, but what a glorious run it had! Nearly every version is a blazing psychedelic swirl. The one on Live Dead (from 1-26-69) is the most famous (and also great!), but this one from a few months earlier is even more exciting and expansive. It just won't quit—until it drops down into a devastating "Death Don't Have No Mercy." Available on Two from the Vault.
4. and 3. ALLIGATOR > CAUTION (DO NOT STOP ON TRACKS)
August 23, 1968; Shrine Auditorium, Los Angeles, CA ………. WITH THESE two Pigpen numbers, it was less about the songs than the jams they spurred. "Alligator" always led to a mesmerizing rare-for-the time double-drum duel between Mickey and Bill, and the jam after would usually build from a Jerry-plus-drummers noodle to a ferocious full-band boil before dropping eventually into the locomotive rhythm and big crescendos that lace together Pig's visit to the mysterious Gypsy Woman in "Caution."
Available on Anthem of the Sun expanded edition. And don't miss the primal, acid-drenched version from the Carousel Ballroom 2-14-68, and for a "Caution" alone, Fillmore Auditorium 11-8-69.
2. GOOD MORNING LITTLE SCHOOL GIRL
February 14, 1968; Carousel Ballroom, San Francisco, CA ………. THE SLINKY Pigpen-sung "Schoolgirl" gave the early Dead a chance to stretch out on an easy shuffling blues groove, with Garcia and Pig trading licks on guitar and harmonica, and Phil always dancing on top with what was already a formidable bass assault. Available on Road Trips Vol. 2 No. 2.
1. VIOLA LEE BLUES
November 10, 1967; Shrine Auditorium, Los Angeles, CA ………. THE LONGEST and perhaps most intense versions are from the late period of the song's relatively brief existence in the repertoire (such as Chicago 4-26-69 and Harpur College 5-2-70), but this one from 1967 really encapsulates what made this song such an important part of the Dead's first years—it was the biggest jamming vehicle for the early group, capturing that era's feral intensity, with all the parts interlocking, more by kismet than by calculation, Phil completely monstrous on the bass, and [Ron] Pigpen [McKernan's] swirling organ still such a fundamental part of the sound. Available on 30 Trips Around the Sun.
Source: www.guitarworld.com