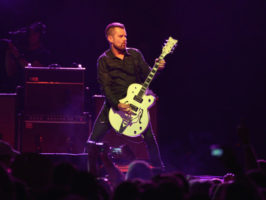 Tonal Recall: The Secrets Behind Eight Extraordinary Guitar Sounds
Finding out what gear guitarists use isn't a problem. Most players will gladly recite a list of their favorite guitars and equipment when asked, especially if they have signature model products. If they won't, there's usually a good chance that somebody somewhere has at least snapped a photo or two of their guitars and live rigs.
The bigger challenge is finding out how most guitarists use their gear. It's not the fault of guitar journalists or the artists themselves—cataloging every single guitar played and amp or effect setting used can be a tedious, laborious, time-intensive affair, and many guitarists can't remember all of the details (that's why they pay their guitar techs big bucks). I personally can't remember every knob on certain amps I own, let alone what my exact favorite settings are.
To help you figure out how to create the guitar tones of several iconic songs, we've dug deep into research mode, combing old interviews and meticulously examining stage and studio photos from the appropriate eras. I then dug into my personal gear collection of over 100 guitars, 75 amps and 400 pedals and rack processors to replicate those sounds. If I didn't have particular pieces of gear, I used items like Fractal Audio's Axe-Fx II XL+ and AX8 (extremely helpful), a Line 6 POD HD500X and various iPad apps, including Positive Grid's Bias Series and IK Multimedia's AmpliTube Series.
Much of the original gear used to record these songs is well known, and as a result many of these items are very expensive, if you can even find them. For those of you with limited funds, we've also put together more affordable alternative rigs that should provide most of the core elements of these tones. If you want it all, the most affordable alternative may actually be Fractal's AX8 and a great guitar or two of your personal preference.
Because control markings and layout styles are inconsistent, I've listed all settings from 0–10 where 0 is completely off, 10 is all the way up and 5 is exactly in the middle. Keep in mind that the sound of even the same guitars and amp models can often vary dramatically, especially with vintage gear more than 30 years old. If the recommended settings don't sound quite right, tweak them as you see fit. These settings worked best with my rigs and should get you very close, but variables such as a guitar's tone woods and pickups can make a difference. Pedals are listed in the order that they should be chained together in series from the guitar to the amp.
Also keep in mind that all of the examples are studio recordings, so the sounds may not be ideal for live performance. Other important elements like the mics, outboard gear and mixing console settings used in the studio while tracking, mixing and mastering can affect the overall tone, so these sounds may not completely match the final product you hear on a record. However, we hope you'll find that our settings get you most of the way there and inspire you to come up with your own signature sounds to influence new generations.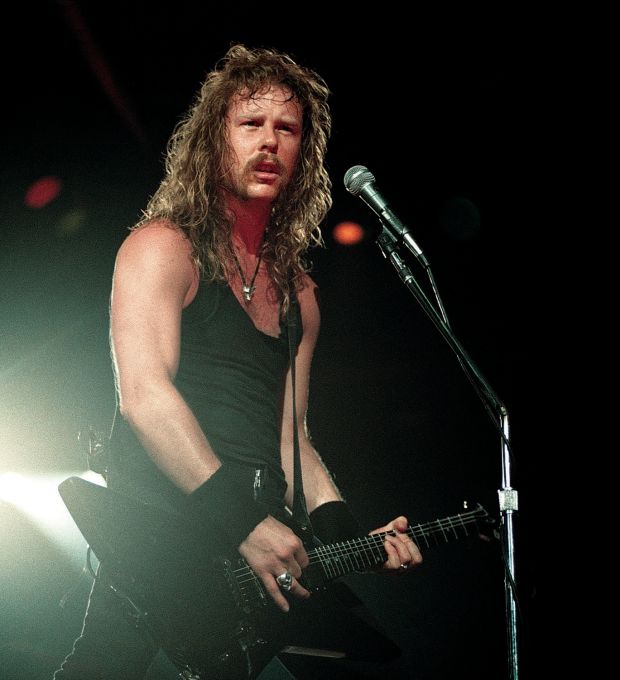 "SAD BUT TRUE"
Metallica, Black Album (1991)
Guitarist: James Hetfield (rhythm part only)
What's genuinely sad but true is that you'll need to spend a fortune if you want to duplicate James Hetfield's monstrous rhythm guitar tone on this track with a rig identical to what he originally used. And that doesn't even include the studio, its equipment and the prodigious talents of producer Bob Rock and engineers Randy Staub and Mike Tacci. Here we can cover only about 60 percent of what went into crafting Hetfield's sound, and even then we need to speculate, as the details still remain closely guarded secrets.
Hetfield's rhythm guitar part is composed of numerous layers of tracks recorded through different amps and cabinets (including overdubs of individual amps dialed to different tones), various mics in different positions and outboard equalization and compression. The core of Hetfield's sound is a mid-Eighties Mesa/Boogie Mark IIC++ (the extra plus denotes a Mesa modification), most likely with a pair of Aphex EQF-2 EQs and an Aphex CX-1 Compressor/Expander in the effects loop. The Mesa's five-band graphic EQ—in a scooped mid "V" configuration—plays a key role, but the Aphex EQs further sculpt the tone, particularly by cutting 1.2kHz (this frequency cut was also the secret to Dimebag Darrell's rhythm tone). Marshall amps strategically restored some of the midrange sculpted out of the Mesas.
Further depth and texture was added by overdubbing a Jerry Jones baritone tuned an octave lower than the guitar, while additional overdubs consisted solely of muted string "chuks" to enhance the percussiveness of the attack. These tracks were all meticulously blended with Jason Newsted's tight unison bass line to create a massive riff.
ORIGINAL GEAR
GUITARS: ESP MX-220 (black finish) with EMG 81 (bridge) and 60 (neck) pickups (bridge pickup), Jerry Jones Danelectro Longhorn baritone copy (bridge pickup)
AMPS: Mesa/Boogie Mark IIC++ (Volume 1: 9.5, Treble: 5/pull shift, Bass: 2, Middle: 0, Master 1: 4/pull deep, Lead Drive: 6/pull lead, Lead Master: 4, Presence: 3, Graphic EQ: 80: +2, 240: 0, 750: -12, 2200: 0, 6600: +3), modified Marshall JCM800 (settings unknown), Mesa/Boogie Mark IV (settings unknown), ADA MP-1 preamp, Mesa/Boogie Strategy 400 power amp
CABINETS: various Marshall 1960B 4x12s with Celestion Vintage 30 speakers
EFFECTS/PROCESSORS: (connected to amp effects loop) Two Aphex EQF-2 EQs (EQ1: 4.2kHz shelving/+6, 1.2kHz/-6, 120Hz shelving/+4, high-pass filter 100Hz; EQ2: 6kHz shelving/+6, 900Hz/-6, 240Hz peaking/-4), Aphex CX-1 Compressor/Expander (settings unknown)
STRINGS/TUNING: Ernie Ball Power Slinky .011–.048/ D standard (DGCFAD)
PICK: Dunlop Tortex .88mm
GET THE SOUND, CHEAP(ER)!
• ESP LTD EX-401
• Mesa/Boogie Recto-Verb 25 combo
• Mesa/Boogie Boogie Five-Band Graphic EQ pedal
TONE TIP
Place the Graphic EQ pedal in the amp's effects loop for the best-sounding and most dramatic EQ sweep.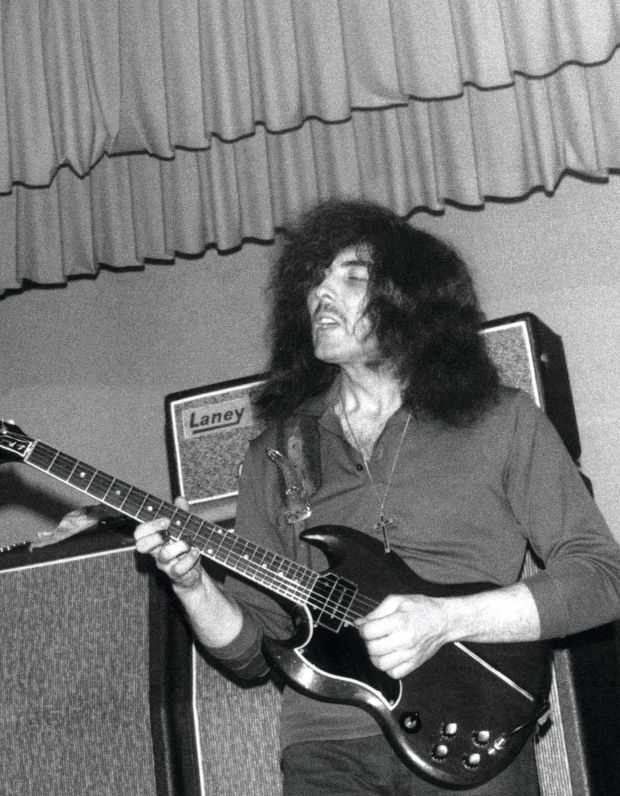 "IRON MAN"
Black Sabbath, Paranoid (1970)
Guitarist: Tony Iommi
Tony Iommi previously laid the foundation for heavy metal guitar tone on songs like "Black Sabbath" and "N.I.B." on Black Sabbath's eponymous debut album, but on the band's follow-up, Paranoid, he perfected a sound that has inspired every aspiring metal guitarist ever since. On "Iron Man" all of the essential elements of metal guitar are in place—wicked distortion, evil riffing and fleet-fingered soloing, all wrapped up with aggressive attitude and swagger.
Iommi's "Iron Man" rig was simple—a 1965 Gibson SG Special, modified Dallas-Arbiter Rangemaster treble booster and 100-watt Laney Supergroup MK 1 head with a Laney 4×12 cabinet, most likely loaded with Celestion G12-25M speakers (some Laney cabs from this era had Goodman Audiom 61 speakers).
Iommi plugged into one of the Supergroup's bass inputs, turned the presence, middle and treble to 10 while the bass was at 0 and cranked the Gain 1 control all the way up to produce crunchy, natural power tube overdrive. In addition to pushing the amp's input even further into distortion, the Rangemaster cut bass frequencies while working in tandem with the SG's single-coil P90 bridge pickup to produce thick midrange with a hollow, boxy honk. The guitar was tuned to standard pitch (EADGBE), and Iommi used light-gauge strings (probably .009—.042) and a medium pick.
ORIGINAL GEAR
GUITAR: 1965 Gibson SG Special with P90 pickups (bridge pickup)
AMP: 100-watt Laney Supergroup MK 1 (Presence: 10, Bass: 0, Middle: 10, Treble: 10, Gain One: 10; guitar plugged into Bass input)
CABINET: Laney Supergroup 4×12 with Celestion G12-25M Speakers
PEDAL: Dallas-Arbiter Rangemaster (modified)
STRINGS/TUNING: .009–.042 light-gauge/Standard (EADGBE)
PICK: Medium
GET THE SOUND, CHEAP!
• Laney Tony Iommi Signature 15-watt combo
• AXL Guitars USA Bulldog
• Catalinbread Sabbra Cadabra
TONE TIP
The Sabbra Cadabra pedal has four controls, while the original Rangemaster effect has only a Set (gain) control. To duplicate the sound of the original Rangemaster, set the Sabbra Cadabra's controls as follows: Presence: 6, Gain: 4, Vol 4: 3.5, Range: 6.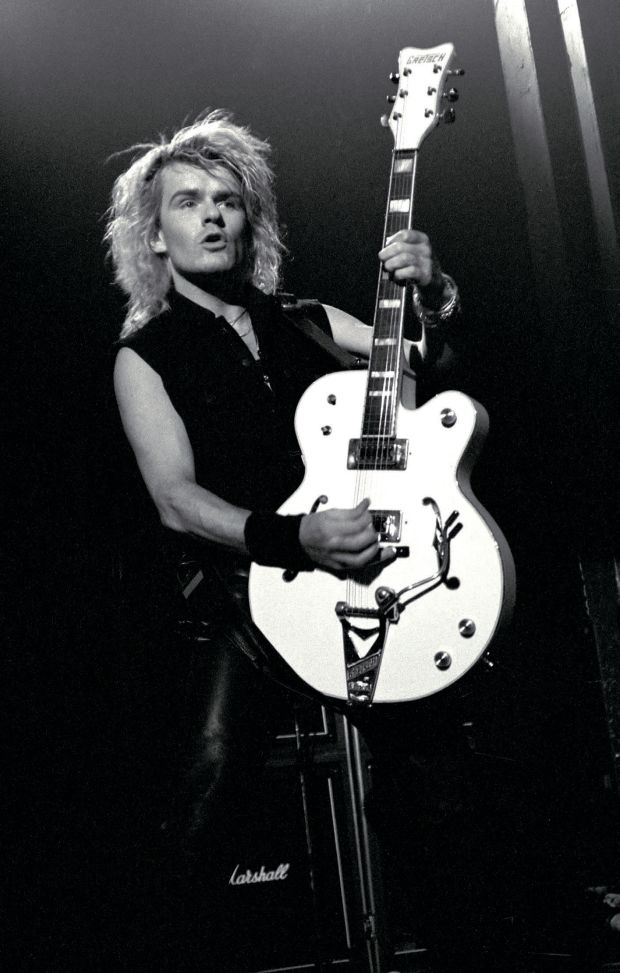 "SHE SELLS SANCTUARY"
The Cult, Love (1985)
Guitarist: Billy Duffy
In 1985 while the Cult was recording at Olympic Studios in London, guitarist Billy Duffy decided to pay an impromptu tribute to Led Zeppelin, who had also recorded at that studio. Spying a violin bow and picking it up, he did his best Jimmy Page impression by scraping away at the strings and turning on several effects on his pedalboard. When an engineer interrupted him and asked him to play "She Sells Sanctuary," Duffy complied, forgetting he had left all of the pedals on. However, it turned out to be a fortunate oversight as everyone agreed that the heavily processed sound fit the intro riff perfectly.
The key to Duffy's sound is two delay pedals (one set to a short delay and the other to a longer delay time, both with several repeats) and stereo chorus, the latter courtesy of a Roland Jazz Chorus JC-120 amp.
A flanger and phase shifter provide extra-swirly modulation for the intro and bridge, but they're bypassed in favor of an overdrive pedal at 0:18 to provide a fat but focused guitar tone that still drives the song rhythmically courtesy of the dueling delays. A 1975 single-cutaway Gretsch White Falcon set to the bridge Filter'tron pickup provides the perfect balance of clean sparkle and midrange honk.
ORIGINAL GEAR
GUITAR: 1975 Gretsch White Falcon single cutaway with ceramic Filter'tron humbuckers (bridge pickup)
AMP: Roland JC-120 combo amp (Channel 2, Low input, Brilliance: On, Volume: 8, Treble: 3, Middle: 7, Bass: 6, Distortion: Off, Reverb: 0, Speed: 4, Depth: 5, Chorus setting)
PEDALS: Boss OD-1 Super Overdrive (Level: 5, Overdrive: 7), Boss BF-2 Flanger (Manual: 4, Depth: 5, Rate: 6.5, Res: 6.5), MXR Phase 100 (Mode: 2, Speed 5), Boss DM-2 Delay (Repeat Rate: 4, Echo: 4—about 250ms, Intensity: 4), Boss DD-2 Digital Delay (E. Level: 3.5, F. Back: 4, D. Time: 4—about 340ms, Mode: 800ms)
STRINGS/TUNING: Ernie Ball Slinky .010 – .046/Standard
PICK: Dunlop Herco Flex 50 medium, held sideways
GET THE SOUND, CHEAP!
• Gretsch G2420 Streamliner Single Cutaway
• Roland Jazz Chorus JC-22
• Boss GP-10 Multi-effects
TONE TIP
Use the Jazz Chorus amp for chorus at the end of the signal chain. The GP-10 is ideal mainly for its series dual-delay effect. Since the GP-10's phaser and flanger can't be used together at once, use just the flanger.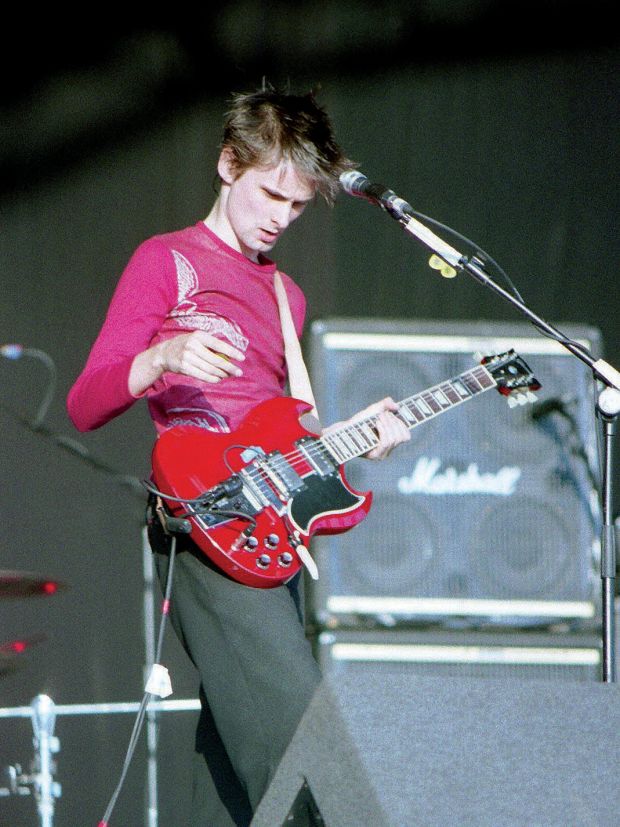 "HYSTERIA"
Muse, Absolution (2003)
Guitarist: Matt Bellamy
One of the greatest guitar heroes of the new millennium, Muse's Matt Bellamy combines the aural adventurousness of Jimi Hendrix with the heaviness of Metallica along with his own modern synth-like sonic stamp. Many of Bellamy's tones sound outrageously complex, but actually the means of creating them are often simple and sometimes even primitive, employing creative blends of stomp boxes instead of complex multieffects patch programming.
Such is the case with "Hysteria," where Bellamy uses fuzz and octave pedals to generate the bulk of his tone, with body and texture added by subtle use of phasing, flanging, delay and reverb. The song starts with a slow pick scrape processed with 480ms delay, fuzz and an MXR Phase 90 at a slow sweep speed. Then he bypasses the delay and engages octave up/down effects with an OC-2 for the main riff, all played through a slightly overdriven Diezel VH4 on channel 1.
For the chorus, he relies exclusively on the VH4's fourth channel for heavily distorted and compressed but defined power chords. A 360ms delay and studio reverb give ambient depth to the fuzzed-out solo (same Fuzz Factory/OC-2 pedals as the intro), embellished further in the solo's second section with an added underlying layer of a Whammy shifting the pitch up two octaves. For the bridge preceding the solo and the outro, a subtle flanging effect is employed along with the fuzz and OC-2 octaves from the main riff.
ORIGINAL GEAR
GUITAR: 1962 Gibson SG with PAF humbuckers (bridge pickup)
AMP: Diezel VH4 (Channel 1 Bright: On, Gain: 5, Volume: 3, Treble: 7, Middle: 9, Bass: 10; Channel 4 Gain: 8, Volume: 8, Treble: 7, Middle: 4, Bass: 10; Master section Volume: 3, Presence: 7, Deep: 8)
CABINET: Soldano 4×12 with Eminence Legend V1216 speakers
EFFECTS: ZVex Fuzz Factory (Volume: 6, Gate: 7, Comp: 0, Drive: 7, Stab: 10), Boss OC-2 (Oct 2: 3, Direct Level: 10, Oct 1: 5), DigiTech Whammy 4 (Whammy +2 octave setting during solo), Line 6 Mod Pro (MXR Phase 90 and MXR Flanger models, both at slow sweep), Line 6 Echo Pro (Delay: 480ms intro/360ms solo delay, Repeats: 4, Mix: 30% wet/70% dry)
STRINGS/TUNING: Ernie Ball Slinky .010 .013 .017 .026 .036 .060/Standard
PICK: Dunlop Tortex .73mm
GET THE SOUND, CHEAP!
• Epiphone Vintage G-400
• Randall RD20 Diavlo combo
• Line 6 M13
TONE TIP
Since the Line 6 M13 doesn't have the ZVex Fuzz Factory or OC-2 Octaver, use the Octave Fuzz model instead (which combines both fuzz and subtle octave up effects) along with the Pitch Glide set an octave down. If you have extra bucks, get the ZVex Vexter Fuzz Factory as it provides the bulk of the guitar's distinctive distortion character.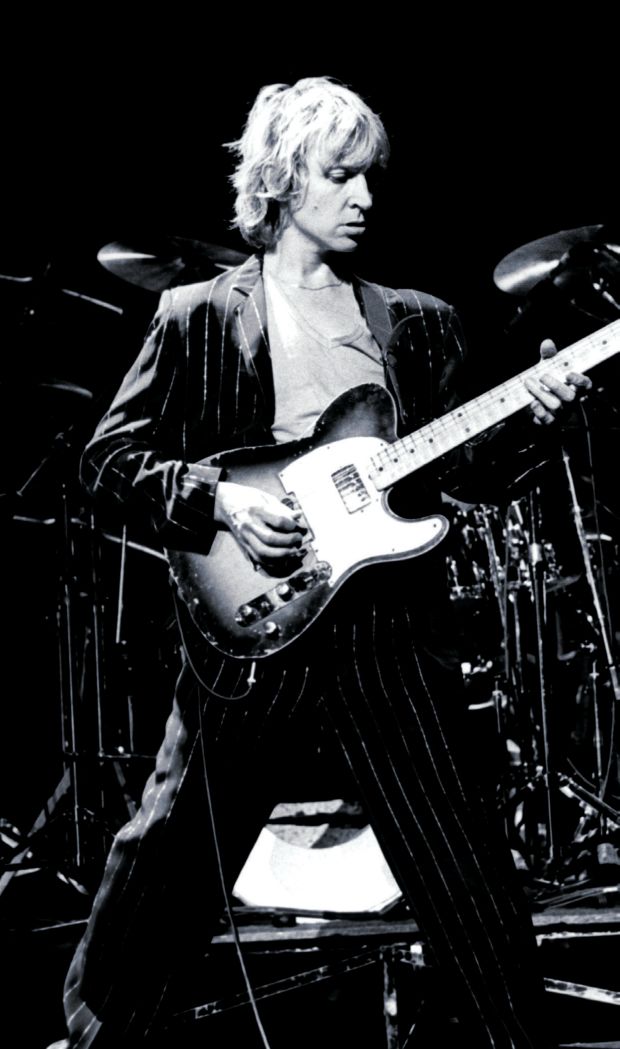 "WALKING ON THE MOON"
Police, Regatta De Blanc (1979)
Guitarist: Andy Summers
Andy Summers' playing on this early hit by the Police is a perfect example of how a player doesn't need to blast or fill every space to make an impression. Instead, Summers impresses with his shimmering textures, inventive suspended chords and restraint, leaving plenty of room for the rhythm section to drive the groove. This approach also was effective in the increasingly larger venues the Police were playing in the late Seventies as their popularity began to grow, creating a sound that resonated throughout the hall.
The key to Summers' especially sparkling treble comes courtesy of two classic stomp boxes: an MXR Dyna Comp and an Electro-Harmonix Electric Mistress. The compressor gives consistent body to each note in the chords while the Electric Mistress is dialed to a chorus-like effect instead of the usual flanging sweep. An Echoplex set to a single repeat, with the echo volume the same as the dry volume, creates a simple rhythmic effect with a characteristic feel courtesy of overlapping resonant sustain that can't be duplicated simply by playing two strokes in quick succession.
ORIGINAL GEAR
GUITAR: 1961 Telecaster Custom with maple neck and Gibson neck humbucker (bridge pickup)
AMP: Early Seventies Marshall JMP 1959 Super Lead (Input: I lower, Presence: 3, Bass: 4, Middle: 3, Treble: 6, Volume I: 5)
CABINET: Marshall 4×12 (speakers unknown)
PEDALS: MXR Dyna Comp (Output: 6, Sensitivity: 6), Electro-Harmonix Electric Mistress (Rate: 6.5, Range: 8, Color: 3, Filter Matrix switch: flanger setting), Echoplex EP-3 (Mode: Echo, Delay: 330ms, Sustain: single repeat, Volume: 50/50 dry/echo)
STRINGS/TUNING: D'Addario EXL115 .011 .014 .018 .028 .038 .049/Standard
PICK: Dunlop Jazz II 1.18mm nylon
GET THE SOUND, CHEAP!
• Fender Standard Telecaster
• Marshall DSL 15C combo
• Line 6 M9 Stompbox Modeler
TONE TIP
Use the Marshall's Classic Gain channel with the gain very low and the volume as high as it will go while still remaining clean. The Line 6 M9 has great models of each effect except the EHX Electric Mistress—use the Tri Chorus instead.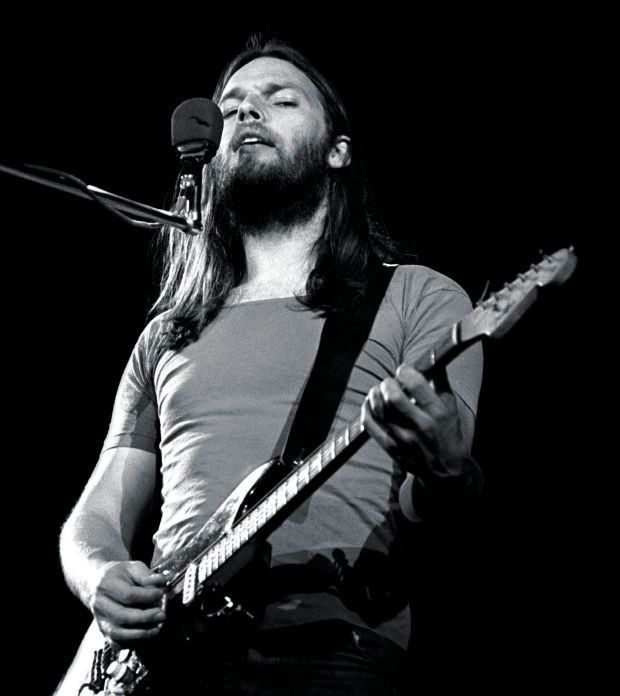 "SHINE ON YOU CRAZY DIAMOND (PARTS I–V)"
Pink Floyd, Wish You Were Here (1975)
Guitarist: David Gilmour
Over the years, David Gilmour has crafted some of the sweetest Strat tones known to mankind. On "Shine On You Crazy Diamond (Parts I–V)," the epic 13-minute opening track to Wish You Were Here, he lays down more awesome tones than most guitarists achieve in a lifetime, though the changes of textures are so smooth and the buildup is so subtle that most listeners don't notice how many different sounds he actually employs.
Gilmour makes his entrance just past the two-minute mark with a bluesy, clean tone played on the Strat's neck pickup with its tone control backed off slightly. That shifts to a psychedelic swirl about two minutes later, where Gilmour plays a droning four-note figure through an MXR Phase 90, likely with a Leslie rotating speaker adding additional texture and depth. This leads to another clean neck pickup solo, but this time the tone control is all the way up, then he shifts around 6:06 to the bridge pickup and kicks on a Colorsound Power Boost overdrive at the peak of the crescendo.
His next solo is even more aggressively distorted, played on the bridge pickup with the Power Boost and Phase 90 providing hollow midrange and modulated motion. His brief melodic passage at 9:46 is doubled and distorted, then he ends the song by playing crisp, shimmering arpeggio figures on the bridge pickup with the Phase 90 adding texture and movement.
ORIGINAL GEAR
GUITAR: 1969 Fender Stratocaster (black finish) with 1963 rosewood neck and 1971 Fender Stratocaster pickups
AMPS: circa 1973-74 Hiwatt DR103 modified with linked channel input (Linked input, Normal Volume: 6, Brilliant Volume: 4, Bass: 7, Treble: 7, Middle: 4, Presence: 6, Master Volume: 5–7), Leslie 147 (slow rotation rate)
CABINET: WEM Super Starfinder 200 4×12 with Fane Crescendo 12-inch speakers
PEDALS/EFFECTS: Colorsound Power Boost (Treble: 2, Bass: 5, Volume: 5–8), MXR Phase 90 (Speed: 6 for drone notes, 4 for solos and outro)
STRINGS/TUNING: .009– .042 Gibson Sonomatic/Standard
PICK: Fender Medium
GET THE SOUND, CHEAP(ER)!
• Fender Standard Stratocaster with rosewood fretboard
• Fender Super Champ X2
• Vintage FX Colordrive
• MXR Phase 90
TONE TIP
The Super Champ X2's effects section features a Vibratone slow setting that can be used to replicate the Leslie rotating speaker effect. Use Channel 1 and crank up the volume control just to the edge of breakup for a fat, dynamically expressive clean tone.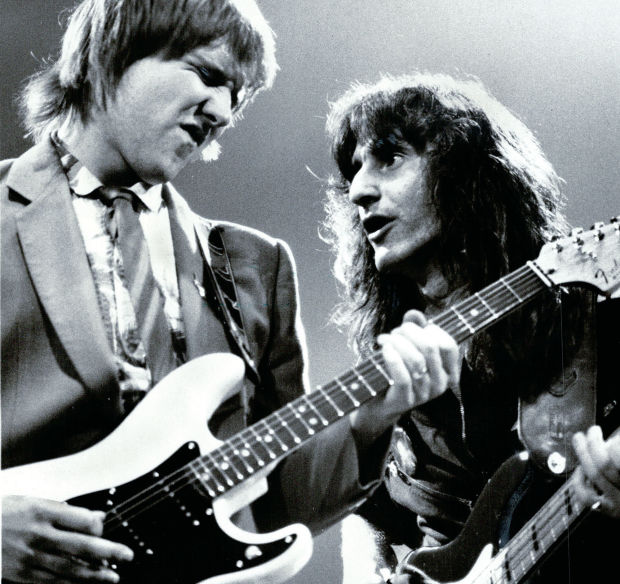 "RED BARCHETTA"
Rush, Moving Pictures (1981)
Guitarist: Alex Lifeson
Alex Lifeson's sound constantly evolved during the Seventies and Eighties, but his tone on Rush's Moving Pictures combines the best of his late Seventies progressive hard rock tones with his emerging brighter, cleaner new wave–inspired sound. The core of his sound on this album was a blend of clean and overdrive textures, but not from the sources one might expect. Lifeson's clean sound came courtesy of a Marshall combo—a 4140 Club and Country model—which was Marshall's version of a Fender Twin. His distortion came mostly from his late-Seventies Hiwatts—the two-input versions with higher gain than the early Seventies four-input models.
Lifeson bought his first Hiwatts sometime in late 1977 or early 1978, and since Rush was based in Canada it's likely that Lifeson bought his Hiwatts in Canada as well. Starting in 1977, Hiwatt's Canadian distributor modified the amps so the Normal and Bright channels were linked when plugging into the Bright input. As a result, the 100-watt model (called the DR105 instead of the standard DR103) was capable of delivering a much more aggressive distorted tone. Close inspection of late-Seventies photos of Lifeson's Hiwatts reveals that the heads were modified with a third input in the lower left corner covering the "Bright" lettering, perhaps to restore the Bright-only input.
In previous interviews, Lifeson said that a modified white Strat was his main guitar on "Red Barchetta," but the guitar tone on the solo has the distinctive fat midrange and acoustic-like honk of his Gibson ES-355. The Boss CE-1 Chorus Ensemble—an essential element of Lifeson's tone starting with Hemispheres—is engaged throughout the song.
ORIGINAL GEAR
GUITARS: Modified Fender Stratocaster (white) with rosewood neck (large Fender headstock), vintage-style tremolo, master volume/tone controls, Gibson-style three-way pickup selector and Gibson humbucker in bridge position (bridge pickup), Gibson ES-355 (bridge pickup, solo only)
AMPS: Two Marshall 4140 Club and Country 2×12 combos with redframe McKenzie speakers (Channel 2 High input, Master Volume: 7-8, Bass: 3, Middle: 6.5, Treble: 6, Volume: 5), Two Hiwatt DR105 heads with Hiwatt 4×12 speaker cabs loaded with Fane or Celestion speakers (Linked "Bright" input, Normal Vol: 6, Bright Vol: 5, Bass: 6, Treble: 5, Middle: 5, Presence: 5, Master Vol: 10)
*Four amps total were individually miked in stereo: one Marshall/Hiwatt rig for the left and an identical Marshall/Hiwatt rig for the right.
PEDALS/EFFECTS: MXR Distortion + (Volume: 9-10, Distortion: 4, solo only), Boss CE-1 Chorus Ensemble (Input: Low, Level: 8, Chorus Intensity: 5, Chorus/Vibrato switch: Chorus, left and right outputs each to individual Marshall/Hiwatt rigs)
STRINGS/TUNING: .009 .011 .014 .028 .038 .048 Dean Markley/Standard
PICK: Kay #2 Medium nylon
GET THE SOUND, CHEAP!
• Fender Standard Stratocaster HSS with rosewood neck
• VHT Special 6 Ultra
• Boss CE-2W
TONE TIP
The VHT combo has a great Clean channel with a Boost function that can generate Hiwatt-like grind. Use an ABY pedal to access the Ultra channel for the solo, and no Distortion + pedal is necessary. The Boss CE-2W may be expensive, but its CE-1 mode nails the original lush Boss chorus effect.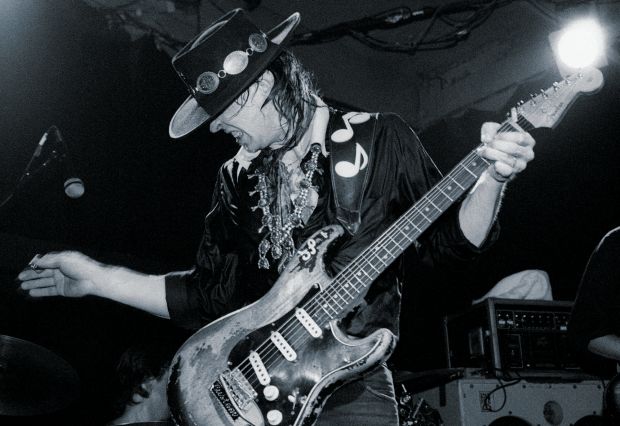 "PRIDE AND JOY"
Stevie Ray Vaughan and Double Trouble, Texas Flood (1983)
Guitarist: Stevie Ray Vaughan
When Stevie Ray Vaughan and his band Double Trouble went to Los Angeles to record at Jackson Browne's Down Town Studio, the intention was to record a demo to shop around to various labels. However, producer John Hammond and Epic A&R man Greg Geller were so impressed with the sound and vibe that they decided to release those recordings as Vaughan's first album, Texas Flood.
These recordings were performed live over two days with no overdubs, providing a good representation of Vaughan's live sound at the time. While Vaughan played through two Fender Vibroverb amps like he did onstage, only one of the Vibroverbs was miked. A Dumble Dumbleland Special amp that belonged to Browne was also incorporated into his rig because Vaughan loved its tight, big clean tones.
This amp's 4×12 cabinet was miked as well. Vaughan's only effects were his Ibanez TS9 Tube Screamer used as a boost for solos and a Roland SDD-320 Dimension D that was added to his solos during mixing, which fattened his tone thanks to its subtle choruslike doubling effect.
ORIGINAL GEAR
GUITAR: 1962/63 Fender Stratocaster "Number One" with rosewood neck, 1959 pickups and left-hand tremolo (middle pickup: intro, verse, chorus, first solo; neck pickup: second solo/outro)
AMPS: 1964 Fender Vibroverb with single JBL D130F 15-inch speaker (Vibrato channel, Input 1, Volume: 6, Treble: 5.5, Middle: 3 Bass: 4, Reverb: off, Vibrato: off), Dumble Dumbleland Special (settings unknown) with Dumble 4×12 with Electro-Voice EVM12L speakers
PEDALS/EFFECTS: Ibanez TS9 Tube Screamer (Drive: 2-3, Tone: 4, Level: 9-10), Roland SDD-320 Dimension D (Mode: 2, used only during mixing)
STRINGS/TUNING: .013 .015 .019p .028 .038 .058. GHS Nickel Rockers/Eb standard (i.e. tuned down half step to Eb Ab Db Gb Bb Eb)
PICK: Fender Heavy, held sideways
GET THE SOUND, CHEAP!
• Fender Standard Stratocaster
• Fender Hot Rod Series Blues Junior III
• Ibanez TS9
TONE TIP
A lot of Stevie Ray's sound can be attributed to his heavy strings and extremely aggressive attack. No soft touch here—hit the strings hard to get them to sing and sting.
Source: www.guitarworld.com