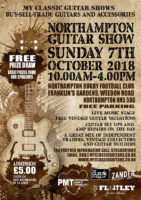 UK South to get five new guitar shows in 2019
The apparently unstoppable rise of the small scale, regional guitar show is set to spread from the North to the South of England next year, as former session guitarist and entrepreneur Rob Hatschek expands his offering.
Hatschek's company, My Classic Guitars, opens its first show in Northampton on 7th October 2018. Being staged at Northampton Saints Rugby Stadium, and being backed by retail chain PMT, Hatschek told MIN that his entire allocation of stalls was sold out within hours of the show's announcement. Hatschek has already named the date and venue of his second show – Newmarket Racecourse on Sunday 24th March. In total, he plans to run four or five shows in 2019, with dates and venues currently being arranged.
'I have decided to put on quality guitar shows in the South of England as I know no one else is doing it,' Hatschek told MIN. 'My aim is to make the shows trader friendly but also good for families and to make it a nice day out. I also want to incorporate the acoustic world as I feel they are lost and feel as if no one really wants them because when they do get to a show they are put out of the way! I am going to allocate an area and where possible an entire room specifically for the them and the luthiers, builders etc…. I don't think people realise how beautiful acoustics can be as they are never pushed to the front of shows which a real shame so I'm going to change all this.'
'My first show is at the Northampton Saints Rugby Stadium on 7th Oct 2018 which has already allocated all the tables. On the day of the show we will have a live music stage and demos throughout the day and work shops. The show has a great mix of independent traders, vintage collectors, tuition, guitar builders etc, and our sponsors are giving away great prizes on the day'.
Sponsors for the show so far include, PMT, Flattley Custom Guitar Pedals, Zander Guitar Pedals and Northampton Guitar School.
Following the established pattern in the North of England, My Classic Guitars is offering inexpensive stands, free parking, low entrance prices (£5 at Northampton with accompanied under 12s getting in free) with affordable catering and a mix of entertainment.
Info: www.myclassicguitars.co.uk
The post UK South to get five new guitar shows in 2019 appeared first on Music Instrument News.
Source: musicinstrumentnews.co.uk