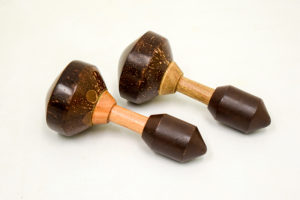 Bucara African Percussion rebranded for 2018
Bucara Percussion, a leading African percussion brand supplied to U.K. schools and colleges for over 10 years, has undergone a rebranding exercise for the New Year. The rebranding, including a new logo, covers their large range of djembes and doum doums, as well as the new 'Coco Shakes' pack of nine educational coconut/wood percussion. A selection of small Brazilian instruments also features in the range.
UK distributor, Soar Valley Music says: 'Handmade in Ghana from African cedar wood, Bucara djembes provide the warmth and tone expected from an authentic African drum. The drums' sound projection is ideal for classroom and workshop purposes and each model in the Bucara range boasts fine quality rope and a traditional goat skin head'.
Info: www.soarvalleymusic.co.uk
The post Bucara African Percussion rebranded for 2018 appeared first on Music Instrument News.
Source: musicinstrumentnews.co.uk