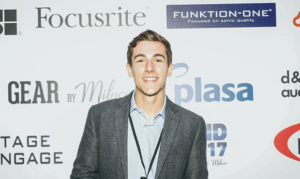 Colby Ramsey returns to Audio Media International as editor
Murray Stassen has stepped down as editor of Audio Media International, with former AMI and TVBEurope senior staff writer Colby Ramsey returning to the brand as editor effective immediately
Former AMI senior staff writer Colby Ramsey has returned to the brand as editor with immediate effect, replacing outgoing editor Murray Stassen. Stassen has joined another music industry publication as deputy editor.
Ramsey's previous role as senior staff writer for AMI saw him reporting to Stassen and former editor Adam Savage, having initially joined the brand in November 2015. This was followed by a six month stint at Future sister title TVBEurope as senior staff writer.
Ramsey completed an undergraduate degree in Multimedia Journalism in 2013.
"I'm really looking forward to getting back to working with the rest of the team at Future to continue the fantastic work that my previous editors have done at Audio Media International over the last few years," said Ramsey.
He added: "With a well-established and dedicated team and with AMI so well-positioned to deliver great content, I'm confident that we will be able to build out the brand and maintain its position as the leading technology resource for the pro-audio end user."
Ramsey will report in to Future B2B content director James McKeown and will work closely with pro audio group editor and PSNEurope editor Daniel Gumble. He can be contacted on colby.ramsey@futurenet.com for any Audio Media International editorial enquiries and can be found tweeting from @colbyrams.
Source: mi-pro.co.uk