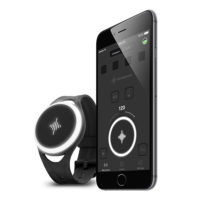 Korg takes Pulse
Korg UK has added Soundbrenner – maker of the Pulse vibration metronome – to its family of brands.
Korg says: 'Soundbrenner's groundbreaking Pulse vibration metronome has been taking the world of music by storm since its initial release in 2016, with over one million musicians already using their companion app, and the number of 'Pulse' wearers growing daily.
'The company's innovative products, high build quality and close attention to detail has seen rapid sales growth, further enhanced by glowing endorsements from the likes of JR Robinson, Jordan Rudess and Peter Erskine'.
Managing Director of Korg UK, Ricci Hodgson, adds: 'We're really excited to welcome Soundbrenner on board. Their high standards and innovative design ideas are perfectly matched with our company ethos, and in the Pulse we have a product that is ideally suited to customers in every area of our business.'
The Soundbrenner Pulse will be officially launched under its new distribution arrangement at the Korg UK Housefair on Tuesday 4thand Wednesday 5thof September. Korg says: 'With further exciting brand announcements due at this years' event this gives yet another compelling reason to take a trip to Milton Keynes at the start of next month. For enquiries in the interim, please contact your Korg UK area sales manager, or their sales officedirectly'.
Info: www.korguk.com
The post Korg takes Pulse appeared first on Music Instrument News.
Source: musicinstrumentnews.co.uk