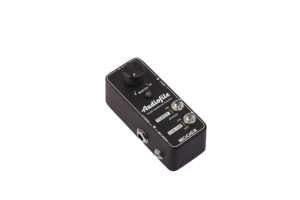 Mooer adds harmoniser and headphone amp pedals
Top selling FX brand Mooer has added two new products to its range for 2018, reports UK distributor Strings & Things.
The first newcomer is Mooer's Pitch Step, a polyphonic pitch shifter and harmoniser, conveniently built into a small expression pedal for real time control. The integrated features and control options make this pedal very flexible and useful for many different styles of music and applications, Mooer says. The housing itself is a mini sized expression pedal that won't take over an entire pedalboard.
'Pedal steel bends, Wham shifting, artificial tremolo dives and fat octave harmonies are just a few of the possibilities. Open up your expressive side with the Mooer Pitch Step,' the maker adds.
Mooer's second introduction is the Audiofile, an all analogue, hi-fi quality, pedalboard headphone amplifier, boasting class A amplifier circuitry.
'Hook up Audiofile as the last unit in your signal chain and leave it there as a permanent resident on your pedalboard. Connect your headphones and activate the analog cab sim for totally immersive practice sessions. When playing live the Audiofile can be completely bypassed or used as an excellent "always-on" signal buffer/booster with the cab sim turned off,' Mooer says.
Info: www.mooeraudio.com
The post Mooer adds harmoniser and headphone amp pedals appeared first on Music Instrument News.
Source: musicinstrumentnews.co.uk