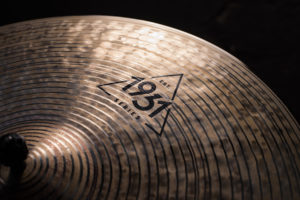 NAMM 2018: UFiP Cymbals
UFiP has a new line of cymbals on show this year, named as a tribute to the company's formation, 'Est.1931'.
UK distributor The Music Shipping Co says: 'Est.1931 has a dry, smooth and very traditional sound. Rides are very controllable, with a great stick definition but also perform as crashes. The crash range is dark, soft, very low pitched, with a soft response and short sustain.'
Sizes available: 16″ 17″ 18″ 19″ 20″ Crash
20″ 22″ Ride and 21″ Sizzle Ride
14″-15″ Hi Hat
Another new line from UFiP is the Extra Dry Blast Crash. Evolving from the concept of the Blast Crash, the new Extra Dry Blast are explosive, but the unlathed surface and the big hammer marks produce a dry and darker sound. Less trashy than the standard Blast, the Extra Dry are warmer and much easy to control, says MSC.
Sizes available: 16″-17″-18″-19″-20″
Because of the rise in interest in Splashes and Chinas UFiP is offering yet another new product range this yearm called Effects Collection. 'This combines some existing models with new and will makes it much easier for drummers to find exactly the sounds that they want.'
Finally, NAMM also sees the launch of a new printed UFiP catalogue – something that many companies have cut now and that is missed by many drummers. These will be available in the UK soon after NAMM, says MSC.
Info: www.musicshipping.co.uk
The post NAMM 2018: UFiP Cymbals appeared first on Music Instrument News.
Source: musicinstrumentnews.co.uk