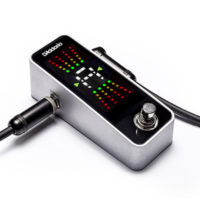 New pedal tuner from D'Addario
D'Addario Accessories has announced the launch of its new D'Addario Chromatic Pedal Tuner, which features a reduce-sized, and lightweight design to preserve valuable space on a player's pedal board, plus a vertical-sweeping LED pitch display for a clearer, more intuitive read.
Its 32-bit chip has four times the processing power of a standard headstock tuner for a fast and accurate readout, and it makes the display visually smoother for precise tuning, D'Addario says. Additionally, the chromatic pedal tuner features True-Bypass, so when the pedal tuner is activated, it automatically cuts its output signal to eliminate noise during tuning and instrument changes.
The D'Addario Pedal Tuner will retail at £92.00 and is available in the UK immediately. Contact your local D'Addario sales rep for details on opening order promotions.
Info: www.daddario.com
The post New pedal tuner from D'Addario appeared first on Music Instrument News.
Source: musicinstrumentnews.co.uk