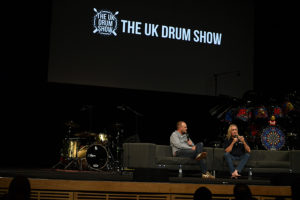 The UK Drum Show leads the way in Manchester
Year Two of The UK Drum Show, which took place in Manchester this weekend (28th and 29th September) scored a major hit with visitors and exhibitors alike, reports organiser Gold Media and Events, with attendance dramatically up on last year's inaugural show.
Organiser Neil Golding says: 'Whilst there were always going to be challenges launching a large-scale national event of this size last September, this year it went superbly well. We have stayed true to our commitment and mission to provide our drumming audience with the very best experience, along with working with the drumming trade in serving up interactive, informative and fun content for the whole family. It was our absolute pleasure to see so many youngsters, girls as well as boys, UK visitors, plus guests flying in from various transatlantic destinations, coming to see what this show had to offer. If anything, we totally over delivered!'
Last year's published attendance figures for the weekend saw 2,399 guests attend. First numbers for The UK Drum Show 2018 were 3,468 (combined for the weekend) an increase of over a 1000+ visitors for year two.
Dates for The UK Drum Show 2019 will be announced shortly.
Info: www.theukdrumshow.com
The post The UK Drum Show leads the way in Manchester appeared first on Music Instrument News.
Source: musicinstrumentnews.co.uk