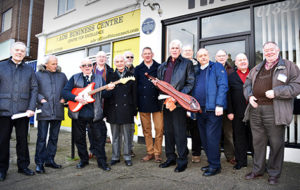 Vox founders get blue plaque recognition
Vox founders Tom Jennings and Dick Denny have finally received some of the recognition they deserve with the unveiling of a historic London blue plaque.
The unveiling took place during a ceremony in Dartford Kent on the 14th February at the site where the first Vox amplifiers were produced in the 1950s. The ceremony was attended by council dignitaries, representatives from today's Vox management and many members of the original staff of Vox in the 1960s who were part of the team responsible for the huge international success Vox enjoyed during that decade, when the brand name was made an international success by a wave of British bands, led by the Beatles.
The plaque was campaigned for by Vox enthusiast Stuart Leech who commented: 'The reason I campaigned for this plaque is to mark the heritage of Dartford and the past employees of Vox, and also fitting it was unveiled at its 60th anniversary, they have made such an impact on the music industry. People can walk past this plaque with pride, knowing not only Dartford was the "true" home of Vox but also it was members of their own community that were behind the huge success of Vox amplifiers.'
Rob Castle, UK Managing Director of present day Vox owners Korg, commented: 'What is clear from talking to the original staff is that Vox was right there at the start of British Rock 'n' Roll. Korg has owned the Vox Company now for 25 years and everyone here is very proud to see the original team recognised in this way. There are many similarities between Korg in Japan and Vox in the UK as both have always shared the values of being passionate about supporting musicians and helping them find new ways to make music by innovating and constantly trying new things.
Vox has a brilliant development team here in Milton Keynes combining British design with Japanese technology and investment. Through Korg distribution partners we have been able to build on those origins in Dartford to make Vox one of the world's biggest music brands.'
Info: www.korg.co.uk
The post Vox founders get blue plaque recognition appeared first on Music Instrument News.
Source: musicinstrumentnews.co.uk