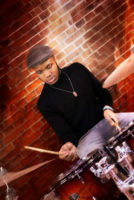 Yamaha's Futurebeat 17 seeks young drum stars
Yamaha has launched its Futurebeat 17 competition, a UK wide promotion that offers an array of prizes, unique performance opportunities and maximum exposure for drummers aged 18 years and under. Yamaha Futurebeat 17 follows the success of last year's inaugural event which attracted over 200 entries, showcasing 50 of the UK's most talented young drummers and treating six Grand Finalists to one-to-one mentorship sessions with a distinguished panel of judges, comprising Yamaha Drum Artists Troy Miller (Amy Winehouse, Laura Mvula), Steve White (Paul Weller, The Who, Ian Dury, Jon Lord) and Donavan Hepburn (Take That, Adele, E.L.O), who selected Brit School student Joseph Solomon as the overall winner.
Yamaha Drum Artists supporting this year's event include George Daniel, drummer for chart-topping rock band, The 1975 who describes the competition as, 'a great platform for young drummers that provides a level playing field for showcasing new talent./
Partnered by Yamaha Drum Dealers throughout the UK, Futurebeat 17 will see Regional Finals hosted on Sundays as part of DRUMFEST '17, Yamaha's new Free 3-day weekend devoted entirely to drumming, that visits Manchester, Cardiff, Birmingham, Glasgow and London from August to mid November.
With prizes including a Yamaha Drum Kit awarded to the Futurebeat '17 winner, a Yamaha snare drum for Regional Winners and professional development from Artist Mentoring Sessions for the Grand Finalists, entry is available to anyone under the age of 18 who plays drums. Entry is online and open now for applicants who, in addition to contact details, will have to submit a video showing their drumming ability. Live regional finals for 10 finalists per location will take place from 20th August to 29th October and a Live Grand Final will be held at Yamaha headquarters in Milton Keynes on Saturday 18th November
Retailers taking part include: Manchester Drum Centre, Drum Depot, Cardiff, PMT Birmingham, Drummers Only, Glasgow and PMT Romford.
Yamaha's Drum Product Marketing Manager Gavin Thomas comments, '#Futurebeat 16 was one of the most rewarding events I have been involved in at Yamaha. The response was fantastic and we were impressed at the level of entries, it is rewarding to see everyone get out of their bedrooms and onto the stage. I think that #Futurebeat 17 will be even better now we have established such a good format to celebrate the next generation of UK Drummers.'
Info: https://uk.yamaha.com/en/news_events/2017/yamaha-drums-is-delighted-to-invite-entries-for-futurebeat.html
The post Yamaha's Futurebeat 17 seeks young drum stars appeared first on Music Instrument News.
Source: musicinstrumentnews.co.uk