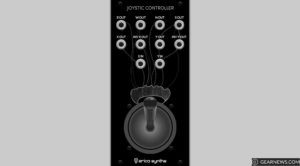 Erica Synths Joystick Controller: Play your modular like a video game!
Following the debut of its DIY modules SWAMP and VCF, Latvian synth specialists Erica Synths introduced another interesting modular toy to spice up your everyday patching. This is the Erica Synths Joystick Controller, which uses a – you guessed it – a joystick to output different CVs and alter CV signals throughout your modular system.
The Joystick Controller's main points of interest are the following inputs and outputs:
Bipolar -5V to +5V CV outputs that react to motion over the X & Y axis
Inverted X and Y CV outputs
X CV Input. Any CV fed there will be added to the joystick's X setting, biasing incoming CV to positive or negative side at a 5V maximum.
With so many inputs and outputs (eight in all), the module's patching possibilities are extensive. As is usually the case with Erica Synths modules, all inputs and outputs are protected against voltage overload. The joystick control makes it quite suitable for live performance, too. You will be able to improvise and inject controlled randomness into your performance. Or simply grab onto it and bang your head like a maniac. The audience will love you either way!
Price and availability
Shipping from Latvia, the Erica Synths Joystick Controller is being sold for 180 EUR + 21% VAT (where applicable) and shipping. The full technical specifications are available at the manufacturer's website. More information can be obtained at the following links:
Manufacturer's website
Product page on Modular Grid
More Erica Synths modules to check out:
SWAMP and VCF (DIY modules)
Black VC clock and Black EG modules
Fusion VCF and VCA v2
Pico – physical modelling synth voice
The post Erica Synths Joystick Controller: Play your modular like a video game! appeared first on gearnews.com.
Source: www.gearnews.com