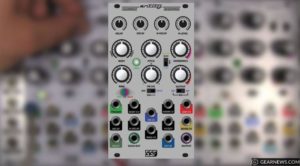 Sneak preview of the SSF Entity Percussion Synthesizer
Andrew Morelli from SSF (Steady State Fate) has been teasing a preview of their forthcoming Entity Percussion Synthesizer.
Entity
It's a Eurorack module that shares the look of their Bass Drum Synthesizer (BDS). In place of the envelope section at the top there's a row of 4 knobs – Delay, Decay, N-Decay and N-level. According to a comment on Instagram the Delay knob is a trigger delay for the main sound – great for snares apparently. Watcing the video the "N" knobs seem to be all about noise, which is something you wouldn't find on a bass drum synthesizer. Otherwise the layout and the arrangement and function of the patch sockets remains more or less the same.
Assuming it follows the design of the BDS you have control over the simulated tightness or looseness of the drum head with the "Body" knob., pitch and harmonics. There's a knob for "Ring" which controls the resonant decay time, and also FM level which is used for modulation. The handy "Ping" button lets you demo the sounds without a trigger source.
The Bass Drum Synthesizer goes for around £335 so that might be a good indication of price.
I've reached out to Andrew for more information, just to see if we can tease out any more details ahead of the official announcement. The SSF website can be found here.
Otherwise please enjoy the video and see what you think of this new source of modular percussive bliss.
The post Sneak preview of the SSF Entity Percussion Synthesizer appeared first on gearnews.com.
Source: www.gearnews.com