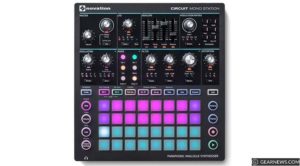 Superbooth 2017 Leak! Novation Circuit Mono Station Synthesizer
Leak number two from the ProDJStore is the Novation Circuit Mono Station Synthesizer. According to the description on the website, it's a next-generation sequenced monosynth.
Circuit Mono Station
Obviously, it's a mash-up between the Bass Station II and Circuit groove box. It appears to have 3 sequencer tracks, one for each oscillator and then a modulation track. They call it a Paraphonic Analogue Synthesizer so presumably you can use the oscillators together or separately. Each has separate tuning and sync parameters, with 4 waveshapes, a sub, ring-mod and noise generation.
There are three distortion modes, plus a multi-mode filter and an overdrive. There's a 4-by-8 modulation matrix making it possible to route from LFO, envelope, sequencer or velocity. Up to 64 patches can be loaded and saved.
On the connections front it has CV and gate outputs plus a CV modulation input and all the usual MIDI and USB. And don't forget the 32 RGB velocity sensitive pads and all those yummy controls on the front panel. It looks totally awesome and appears to be going for €499, which, honestly, feels a little high. But then this is an analogue synthesizer unlike the original Circuit. Although the price has now disappeared so who knows.
I'm excited to have a look at Superbooth. It's a bit of a shame that both Novation's big launches leaked just before the show, but these are cool devices. More detail when we have it.
The post Superbooth 2017 Leak! Novation Circuit Mono Station Synthesizer appeared first on gearnews.com.
Source: www.gearnews.com