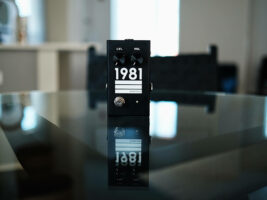 1981 Inventions's second-ever pedal, the LVL, has officially arrived
1981 Inventions has officially released its second ever pedal, the LVL, after previously announcing its launch back in April this year.
READ MORE: Reactions are mixed to this Coronation-edition Tone Bender from the British Pedal Co
The LVL was brought to life by 1981 founder and Relient K guitarist, Matt Hoopes, in collaboration with John Snyder of Electronic Audio Experiments, and after previously teasing the product for months, it is now available for all to order.
A lower gain overdrive that is described as "non-transparent", the LVL boasts a combination of light clipping and op-amp push to give is a "one-of-a-kind" sound and gain structure. The company also promises it works well with bass guitars, too.
View this post on Instagram
A post shared by 1981inventions (@1981inventions)
Hoopes has worked on the circuit over the course of four years, following the release of the successful 1981 Inventions DRV, which earned a glowing, 10/10 review from us at Guitar.com when it was launched in 2019.
In a statement released to mailing list subscribers back in April, Hoopes said: "Many of you have been with me since the beginning, even before DRV was launched. I really wanted to do something special just for you. You've patiently waited through barrages of new colourways, and I hope that this will be a sort of payoff."
Now, upon its official launch, the pedal has been given its first demo by Josh Scott of the popular JHS Show on YouTube, and you can check it out below:
Back in 2019, Hoopes told Guitar.com how he began his pedal-building journey: "I always was interested in guitar sounds and textures, building pedalboards, and endlessly tweaking knobs. At one point, I picked up a reissue RAT pedal and I very much connected with it. I liked how I could finally make my distortion sound dark enough," he said.
"It wasn't long after that I started reading about tweaking the circuit, changing to the LM308 op-amp, LED mods, high gain, low gain, Ruetz… I picked up a few modded RATs and then started doing things on my own. And then it actually wasn't until a few years ago that I came across a 1985 Whiteface RAT that completely inspired me and helped solidify the direction of my first release with 1981 Inventions."
The LVL is priced at $229 (approx £185), and buyers should allow for up to four weeks for shipping. Find out more and purchase at 1981Inventions.
The post 1981 Inventions's second-ever pedal, the LVL, has officially arrived appeared first on Guitar.com | All Things Guitar.
Source: www.guitar-bass.net