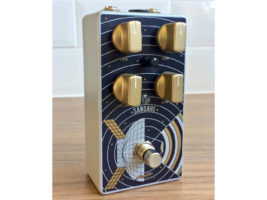 25 new pedals and effects units: December 2018
Every month, we'll compile a few lists of gear that's fresh out of the oven. Here's one devoted to new guitar pedals.
Magnetic Effects Sandare V2
This is an update of the brand's overdrive/booster pedal. New to this circuit is a voice control knob that dials in an overall EQ response.
3 Leaf Audio Chromatron
3 Leaf Audio's Chromatron is a state variable filter that can take you from old-school, Hendrix-esque quacks to futuristic synth soundscapes.
Amptweaker DepthFinder
Here's an EQ pedal that allows you to add resonance and presence to your mix. This enables you to dial in tube-like qualities to your tone.
MD Effects Compactor V2
This pitch-black compressor unit adds definition, sustain and punch to each note you play. It also features deep compression capabilities that ensure the dry signal isn't lost in the mix.
Amptweaker Curveball Jr EQ/Boost
Amptweaker's new baseball-themed stompbox is a three-band EQ/booster with a ton of tone-sculpting capability.
EarthQuaker Devices Black Ash Endangered Fuzz
You'll notice right away that this fuzz box is inspired by the classic Tone Bender design. So while it may only have three knobs, it delivers a variety of overdrive and fuzz options.
Coffin Frost Bite Fuzz
This fuzz pedal was designed in collaboration with Haunted Labs' Christopher Cozort. It's based on a silicon circuit and dials in a range of tones, from classic fuzz to shocking distortion.
DSM Noisemaker OmniCabSim Mini
As its name suggests, this busy little power amp/cab simulator is essentially a portable version of the brand's popular OmniCabSim Deluxe.
Mooer 019 UK Gold PLX Micro Preamp
The latest entrant to Mooer's impressive range of micro preamp units can take you from sparkling mids to vintage overdrive.
Bogner Amplification Ecstasy Blue Mini
Designed to recreate the blue channel of Bogner's iconic Ecstacy amplifier, this nifty unit delivers the amp's classic rock 'n' roll crunch tones. This was released alongside the Ecstacy Red Mini, a higher gain beast.
Wampler Fuzztration
The Wampler Fuzztration is a fuzz circuit with a wide range of tones and an independent octave effect.
Abasi Pathos
Built in collaboration with Brian Wampler, Tosin Abasi's new pedal is a multi-talented distortion unit.
Way Huge Purple Platypus Octidrive MKII
This purple box, like its predecessor, combines an aggressive overdrive circuit with a frequency doubler that produces an octave-up effect.
Chase Bliss Audio Dark World
One of 2018's most highly anticipated pedals, the Dark World is a dual-channel reverb that has both modern and vintage tones. It was designed in collaboration with Keeley Electronics and Cooper FX.
Fuzzrocious Grey Stache
The Grey Stache is informed by two of the most iconic iterations of the Big Muff ever created: a GGG-tuned version with more overdrive than fuzz, and a Civil War mod that hails from Russia.
Dwarfcraft Devices HAX2
The HAX2 is a modulation unit that's all about sci-fi sounds and textures. It's got a ring modulator, an envelope follower and resonant filters.
Magnetic Effects Black Moon
The Black Moon is inspired by Dunlop's germanium Fuzz Face, but features a couple of modifications of its own: namely, "Bias" and "Input" controls.
Ground Control Audio Tsukuyomi Midrange Booster
Modelled after Ground Control's Amaterasu Bright Pre-amp, this handy midrange booster ensures your mids cut right through the mix.
Mod Kits DIY Tone Attack
The Tone Attack is an EQ/Boost pedal that offers some interesting tone-sculpting capabilities, but requires some assembly. This kit caters to both novice and experienced pedal builders alike.
Joyo Tauren Overdrive
Inspired by the Tube Screamer, the Tauren Overdrive is a no-nonsense OD unit with only "Volume", "Tone" and "Gain" controls to manage.
Emma Electronic Navigator Delay
The Navigator Delay packs a multitude of features, including delay and modulation effects, trails, and an uncommon beat-split option.
Friedman BE-OD Deluxe
As its name suggests, this one is an upgrade of the brand's popular BE-OD unit. Enhancements include an added channel and midrange controls.
Joyo Uzi Distortion
The second pedal in Joyo's new dirt box collection, this flexible drive unit can go from warm amp-driven overdrive to piercing heavy metal distortion.
Lawrence Petross Design Sixty 8 Deluxe Overdrive
Lawrence Petross Design has beefed up its Sixty 8 Overdrive circuit with an additional channel. Otherwise, it still features a transparent overdrive that's modelled after a '68 Plexi.
RPS Effects Vitamin C
The Vitamin C is a multi-talented boost pedal that can inject your play with some "juicy" gain, but can also double up as a simple buffer.
The post 25 new pedals and effects units: December 2018 appeared first on Guitar.com | All Things Guitar.
Source: www.guitar-bass.net