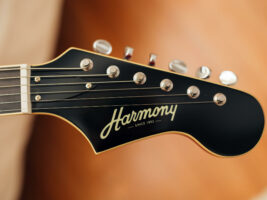 A Brief History of Harmony Guitars
When we talk about giants of American guitar manufacturing, Harmony Guitars is far too often left out of the discussion, even though the brand was, at one time, the biggest producer of guitars in the world.
It's also a brand with an eventful and rather dramatic history – a meteoric rise, a tragic fall, and a recent resurrection. Join us as we take a look at the history of one of the most prolific guitar brands of the early 1900s.
Harmony was founded in 1892 by Wilhelm Schultz – a German immigrant from Hamburg. Schultz left a good job as a mechanic to come to Chicago and initially ended up finding work at the Knapp Drum Company. Knapp was bought out by a large instrument manufacturing giant called Lyon & Healy, which was perhaps best known for manufacturing harps and Washburn instruments. In 1892, Schultz left Lyon & Healy along with four employees and started Harmony in a loft of the Edison Building – a site that would later become the city's Civic Opera House, which is still a well-known music venue today.
Image: Harmony Guitars
Very little information is known about the earliest Harmony-made guitars as it seems that not too many survived, but from what we do know, the earliest models were small acoustics with gut strings, and glued-on bridges.
One peculiar spec we do know about was the way the guitars approached fret-markers – the guitars had three dots at the fifth, seventh, and 10th frets (rather than the 9th). Harmony was not the first to do this, as it was a somewhat common strategy employed by guitar makers who intended to sell their instruments to musicians in mandolin orchestras, which were immensely popular at the time. Mandolins still typically have position markers at the 10th fret and the guitars were meant to be an easy transition for mandolin players.
The role of the guitar back in the 1890s was to be used primarily for vocal accompaniment or to add harmonies to the mandolin and banjo orchestral parts of the time – perhaps this is where the name "Harmony" came from. Harmony and its early main competitor, Oscar Schmidt of New Jersey, continued to favour use of the 10th fret long after most other major manufacturers settled on the ninth fret.
Image: Harmony
The Centre Of Everything
By 1894, there were about 40 employees working at Harmony. Chicago was a central hub for all sorts of manufacturing due to its location on the Great Lakes shipping lanes as well as being a central railroad hub. Chicago seemed to be at the centre of America's industrial boom in the late 1800s and early 1900s. As such, Chicago was also home to instrument brands like Silvertone, Kay, Valco, Supro, Regal, National, and several others. Crucially, the city was also the home of the newfangled mail-order merchandise business – an innovation which would transform the way we shopped and general consumer culture across the world, but which also played a major role in the dissemination of the guitars across America and the rise of the guitar makers there.
One such mail-order business was Montgomery Ward – in fact it was the world's largest retailer at the time. In its 1894 catalogue, MW pledged to sell only American-made guitars because, the catalogue claimed, American-made guitars were a superior product. Imported guitars, said Montgomery Ward, would crack or split due to climate changes, while American guitars would not. Perhaps this was the kernel of what would grow into a huge legend around the quality and reliability of American guitars the world over.
Another big player in the mail-order game was Sears – another midwestern based shopping catalogue that had traditionally been used to sell watches and jewellery. Sears soon also began offering guitars in their catalogues and by 1900, Sears would overtake Montgomery Ward as the world's largest retailer. Fortunately for Harmony, sometime around 1897, Sears began offering Harmony Guitars in its catalogue during this period, with prices starting at a whopping, $5.75.
These were mostly small-bodied parlor guitars which were popular at the time. We don't know much else about the specs of the guitars but they were advertised as having "Spanish cedar" necks, an 18-fret ebonized fingerboard, a pin bridge, and they still had three fret marker dots at five, seven and ten fret positions.
Image: Harmony
The Boom Times
As the 19th Century gave way to the 20th, Harmony Guitars continued to grown and expand, largely driven by the mail-order market, but things were not always straightforward. In 1899, Sears expanded the line of guitars to include Harmony's rival, Oscar Schmidt Guitars, out of New Jersey. Harmony guitars were cheaper, and considered to be on the lower end, while Oscar Schmidt guitars were deemed to be a bit higher quality.
In 1916, Sears purchased the Harmony Guitars brand and used the production infrastructure primarily to make ukuleles, which were very popular at the time. Over the coming decades, the brand kept with the times by producing instruments that were most in demand over the following decades, including violins, banjos, mandolins, and, following the success of brands like Fender and Gibson in the 1950s, electric guitars.
These guitars were often sold under a variety of trade names in addition to Harmony depending on the retailer that was carrying it, including Vogue, Valencia, Johnny Marvin, Monterey, Stella, and many others.
In these boom times, Harmony Guitars were better known for the quantity of their sales rather than the quality for the craftsmanship. Harmony was at one point the largest producer of guitars in the US – selling 250,000 pieces in 1923 and peaking in 1965 by selling 350,000 instruments per year at the height of the British Invasion.
That said, Harmony still made perfectly good guitars – they might not have stood up to the quality offered by the Golden Age of brands like Gibson, Fender and Martin, but they were still fine American-made instruments.
The Fall and Rise
It wasn't to last however – just 10 years after boasting of being America's largest guitar maker, the company had folded. In later years it focused on student models sold by department store JCPenney, but was ultimately pushed out of the lower end of the market by high-quality affordable instruments imported from places like Japan.
Despite its rapid demise, there can be no doubt that Harmony played a significant role in the history of guitar – it helped make the guitar a truly universal instrument at a time when everyone wanted to learn to play. Between 1945 and 1975 its estimated that Harmony produced around 10 million guitars – each one likely ending up in the hands of a beginner just starting their journey. Some of them would become rock stars themselves.
Indeed, despite their lowly status artists weren't shy about using them – Buck Owens had his iconic red, white and blue H169 signature model, while everyone from Elvis to Howlin' Wolf, Richie Valens and The Rolling Stones all played Harmony guitars at some point. Jimmy Page loved his H1260 so much he used it on both Stairway To Heaven and Ramble On, while in the modern era Dan Auerbach helped make the brand cool again with his heavy use of Stratotone and H78 guitars for much of The Black Keys' early work.
It was perhaps as a result of this that in the last decade or so, Harmony's place in the guitar pantheon has been reappraised, with many players coming to appreciate the fact that these were American-made instruments that had their own brand of leftfield cool, without the pricetags of similar big-brand guitars from the era. Unsurprisingly, the value of vintage Harmony electric guitars has since skyrocketed.
Then in 2018, something unexpected happened – Harmony was reborn as part of the BandLab Technologies portfolio (now Vista Musical Instruments, which shares a parent company with Guitar.com) with the promise of new designs, vintage reissues and more.
The reborn Harmony brand perhaps surprisingly still makes guitars in the USA – now operating out of the legendary 225 Parsons St facility in Kalamazoo, Michigan vacated by Gibson in the 80s, and shared with Heritage Guitars today. It also produces a range of new products including solidbody and semi-hollow designs inspired by the classics such as the Silhouette and the Comet, while also making amplifiers and more faithful reissues such as the H72. For the first time in 40 years, Harmony is making waves in the guitar world again.
The post A Brief History of Harmony Guitars appeared first on Guitar.com | All Things Guitar.
Source: www.guitar-bass.net