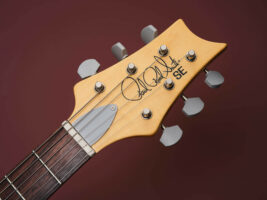 A brief history of PRS
A relative newcomer to the game, PRS have managed to join the likes of Fender and Gibson in the upper echelons of electric guitar legacy. Known for their superb playability, crisp and detailed sound, impeccable build quality and eye-catching finishes, Paul Reed Smith guitars are used all over the world by a wide range of players and are deserved of every bit of praise they get.
READ MORE: "I threw the vinyl on and I was like, 'Oh, fuck, I can't wait to hear those songs live'": The Murder Capital on their second album
Pre-factory days
Image: PRS via Youtube
Hailing from humble beginnings, Paul was always hands on, and built his first guitar for a college study in 1975. Before then, he'd worked in a guitar repair workshop (including working on guitars for Aerosmith) so had built up a wealth of knowledge. This first guitar build helped ignite the spark, and over the next 10 years, Paul experimented with different wood combinations, building processes, body shapes and hardware designs to hone in on his style of guitar building.
Averaging around one guitar a month, Smith would then test them himself at gigs, as well as hang around at concerts to try and get them in the hands of touring artists. Even early on, before branding them with his own name, the first ever guitar to feature the now famous bird inlays was built specially for none other than Peter Frampton. He managed to amass a few big names endorsing his instruments over the next few years, including Al Di Meola, Ted Nugent and Carlos Santana.
The aim was to make something roughly in between Gibson and Fender, with the original PRS Custom body shape sharing some similar curves with a Strat and a Les Paul. He wanted to make it look, feel and sound as good as possible, and because PRS weren't necessarily tied to traditions of the past like some older guitar companies, they were able to utilise whatever method led to the greatest results.
1985: First factory & NAMM Show
Image: Jesse Grant / Getty Images for NAMM
Things were looking up, with a good few orders for Paul's new guitars from artists, and, following a successful first trip to the NAMM show, he packed up his truck and drove to various dealers on the east coast of America. They were impressed and Smith returned with enough pre-orders to open his own factory in Annapolis, Maryland in 1985. This is also the year that PRS start making their own pickups in-house, allowing them to have total control over the tone of the instruments.
Less than a year later, production had ramped up, and PRS had produced their 1000th guitar on 27th June 1986. A few years later, they introduced the CE range which featured a bolt-on neck lending a slightly different sound and a more affordable price tag.
Continued innovation in the 90s
PRS carried on trying new and wonderful things, including the introduction of the collectable Dragon series, starting with Dragon I in 1992. These were super high-end guitars, baring a dragon inlaid all the way down the fingerboard, highly figured woods and very limited numbers. Their 22 fret construction was a departure from the usual 24 frets, and eventually led to the birth of the Custom 22 in 1993 – a model that is still widely popular today.
In 1996, PRS opened up their Private Stock programme. This featured a small and highly skilled set of luthiers, including Paul himself building some world-class guitars, utilising some of the best materials on the planet. Private Stock guitars are still available and can be seen as heirlooms to be passed down within the family.
Ted McCarty
PRS Smokeburst McCarty. Image: Nigel Osbourne / Redferns
Throughout Paul's never-ending research in the 80s, one name kept popping up in the list of guitar-related patents – Ted McCarty. The latter was Gibson's president throughout what many consider to be their golden years – 1950-1966. He's the man behind iconic pieces such as the Explorer, Flying V, SG and the Tune-o-matic tailpiece.
After speaking on the phone, McCarty and Smith became close, and soon Ted became a consultant for PRS. He acted as a mentor to Paul, who was hungry to learn all about Ted's previous methods of making guitars and pickups. Paul utilised the advice and guidance from Ted and in 1994 came out with the McCarty model – a twin humbucker guitar not too dissimilar to a Les Paul and one that laid the groundwork for models that are still available, like the McCarty 594.
SE range
Images: PRS
Up until 2001, PRS was a fairly high end guitar brand. The SE range was introduced as a way of bringing the now world-famous guitars to players with a stricter budget. Carlos Santana was actually partly responsible for the SE range as he used to get many requests for a cheaper version of his signature guitar – as such, the first SE guitar was a Santana model.
For the first time, these guitars were made overseas in Korea, though it was a long process. Paul and his team were meticulous about the quality of guitars coming out of the factory and spent years sharing their knowledge on how to build guitars the PRS way. The results were fantastic, and to this day, the SE range represents some of the best bang-for-buck you can find in the world of electric guitars.
S2 range
The next major lineup change in terms of electric guitars (acoustic guitars and amps started being produced in 2009), was the introduction of the S2 range in 2013. This aimed to fill the gap between the Korean-made SEs and the US-built Core Line models. The S2s were still made in Maryland, but were stripped down, and utilised a few cheaper components. These were, and still are, great-sounding and playing American-made guitars for far less money than the usual Core Line pieces.
2018: The Silver Sky
Fewer releases have caused a stir in the guitar community more than the PRS Silver Sky. Whilst it wasn't PRS's first foray into the world of single coils, it was a departure from their usual style. It was also very clearly their modern take on a pre-CBS Strat, especially seeing as it was made for, and in conjunction with a well known Fender player – John Mayer. This wasn't their first collaboration with Mayer, having recently made the incredibly premium Super Eagle guitar for his work with Dead & Company, and the J-MOD signature amp.
Internet forums were ablaze with naysayers – that was until people got their hands on them. The Silver Sky and the more recent SE version, released at the start of 2022, are now some of the most popular guitars that PRS make.
To the future
PRS are never a company to stand still or look behind them. They're undeniably influenced by the past, though innovation is never shied away from and there's no doubt that something else new and cutting edge is only around the corner. With their recent foray into the world of effects pedals, we can only wonder at what's next for PRS.
For more features, click here.
The post A brief history of PRS appeared first on Guitar.com | All Things Guitar.
Source: www.guitar-bass.net