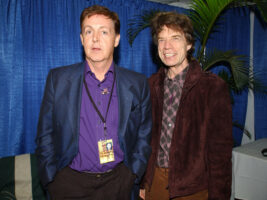 A Rolling Stones x Beatles collab album is reportedly in the works
Fans of the Beatles and The Rolling Stones might soon bear witness to what appears to be the greatest music team-up of 2023.
READ MORE: Tony Hawk is reproducing a skateboard painted by Kurt Cobain for charity
According to Variety, Paul McCartney and Ringo Starr are set to appear on an upcoming Stones' album helmed by 2021 Grammy producer of the year Andrew Watt.
The former has allegedly already recorded bass parts for the yet-to-be-named project, though it's unclear whether the two Beatles will ultimately feature on the same track. The publication also noted that recording sessions were completed in Los Angeles "in recent weeks", and that the album is entering its mixing phase.
In an interview last December, McCartney revealed that he's been recording "with a couple of people," saying, "I've started working with this producer called Andrew Watt, and he's very interesting – we've had some fun. Beyond that, I don't have anything massive planned… at the moment!"
Stones guitarist Keith Richards also confirmed in a New Year's Instagram post last month that "There's some new music on its way," while ShowBiz411 reported that Watt has been working with The Stones at Sanctuary Studio in Nassau, The Bahamas.
View this post on Instagram
A post shared by Keith Richards (@officialkeef)
Given that collabs between the two bands are few and far between — one example being the Stones single We Love You, where John Lennon and McCartney sang backing vocals — the latest news has sent fans buzzing about the whats and hows of the alleged project.
The upcoming record, should it arrive, will also be the Stones' latest album of original material since A Bigger Bang in 2005.
No details have been released by officials at the time of writing. Stay tuned for more information.
The post A Rolling Stones x Beatles collab album is reportedly in the works appeared first on Guitar.com | All Things Guitar.
Source: www.guitar-bass.net