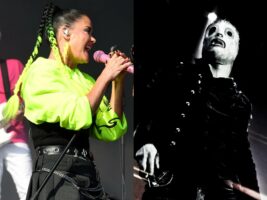 A Slipknot and Barbie Girl mash-up exists – and it's genius
A mash-up of Slipknot's 2008 hit Psychosocial and Aqua's 1997 bubblegum pop smash Barbie Girl has been doing the rounds on TikTok.
The mash-up has presumably been inspired by the tide of Barbie memes taking over the internet as the long-awaited Greta Gerwig comedy finally comes to cinemas today (21st July). Landing on the same day as Christopher Nolan's Oppenheimer, the internet has also been awash with so-called Barbenheimer jokes.
READ MORE: Ryan Gosling gifts BTS's Jimin his 'Ken' Gibson acoustic from the Barbie movie
The pop-metal mash-up was shared on TikTok by the user @thecrimsonentry, who described it as either "the best or most cursed mash up of all time", in which Corey Taylor screams over the top of catchy Europop beats from yesteryear.
Check it out below:
@thecrimsonsentry
This has no right to go this hard #barbie #barbiegirl #mashup #slipknot #metalcore #emo #bimbocore
♬ Psychosocial Girl – h e a t h
The track has now been made available to download and has been viewed over 240,000 times.
Plenty of TikTok users have seen it as proof that, as per a recent trend on the platform, Slipknot is girlypop after all. "Corey Taylor would FULLY admit its girlypop we all know it", one wrote.
The 'Slipknot is girlypop' trend has seen many TikTok users performing 'girly' dances to Slipknot tracks.
While Slipknot (sadly) doesn't appear on the Barbie soundtrack, guitars do still make an appearance.
It was announced last week that Slash and Wolfgang Van Halen would appear on the film's soundtrack, having been invited by producer Mark Ronson to contribute their guitar talent to a song Gosling performs in the film called I'm Just Ken.
Van Halen also said he has "a lot of textual stuff throughout the film", including "two major spots where I do some soloing".
Producer Mark Ronson described Slash as his "all-time hero" at the film's premiere, where he told Variety: "I sent him the song and he was like, 'This is a good song… Cool, I'll play on it.' He kills it, he plays the solo at the end and the rhythm parts. It's wonderful."
The post A Slipknot and Barbie Girl mash-up exists – and it's genius appeared first on Guitar.com | All Things Guitar.
Source: www.guitar-bass.net