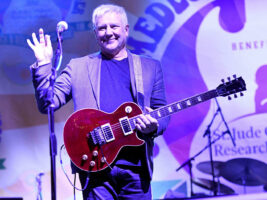 Alex Lifeson reveals the size of his instrument collection, says it's less than half that of Geddy Lee's
Ex-Rush guitarist Alex Lifeson has revealed the extensive nature of his collection of guitars and other instruments and compared it to that of his bandmate's Geddy Lee's collection of instruments.
READ MORE: Alex Lifeson says the pandemic has "wrecked things for a bit," but he's still "eager" to make more music with Geddy Lee
During an appearance on Eddie Trunk's podcast, Lifeson was asked "How many guitars do you have? Behind you I can see at least a dozen."
He replied: "You know, I never started out to be a collector, and although I've collected some instruments of some kind of value in terms of the vintage or the particular model, I was never a big collector."
He noted that "25 years later, these brand-new guitars that I got back then are vintage instruments…"
He also counted off the guitars he had near him: "I have 17 guitars here on the wall, I have another eight acoustics on the other side of my desk here, and then in the corner I've got my Mandola mandolin, I've got a banjo over here, much to my wife's dismay. I have lots of really great instruments that I can utilize and work with. I probably have a total of somewhere around 120 instruments.
"Geddy [Lee], on the other hand, I think has around 350, and he did a lot of collecting when he was preparing for his book. And he had also collected some 6-string instruments as well. But he is a collector, he's always been that way. His baseball memorabilia collection is amazing… he's got that bug."
Lifeson and Lee are set to collaborate on a musical project in the future, as the pair have remained in touch since Rush's disbandment. Lifeson said that the project, however, will not be Rush. "Rush ended in 2015," he said earlier this month. "There's no way Rush will ever exist again because Neil's not here to be a part of it. And that's not to say that we can't do other things and we can't do things that benefit our communities and all of that. I have lots of plans for that sort of thing that don't necessarily include Geddy."
The post Alex Lifeson reveals the size of his instrument collection, says it's less than half that of Geddy Lee's appeared first on Guitar.com | All Things Guitar.
Source: www.guitar-bass.net