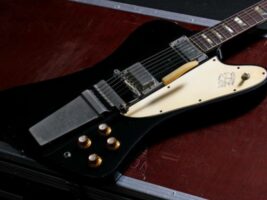 An ultra-rare 1964 Gibson Firebird used by Chuck Berry predicted to sell for £20,000 at auction
An exceptionally rare Gibson Firebird, used onstage by Chuck Berry, will hit the auction block later this month – and could fetch over £20,000.
READ MORE: Epiphone collaborates with Gibson's Custom Shop for Korina Flying V and Explorer reissues
The late guitar icon was seen sporting the 1964 Firebird at one of his most memorable performances: his stint at London's Wembley arena, alongside Jerry Lee Lewis, Little Richard and Bill Haley and the Comets.
According to Gardiner Houlgate, the auction house hosting the event, the axe is in pretty good shape for its age, and can be seen in both the 1973 footage of the performance, and on the cover of a 2017 greatest hits album.
The auction will take place next Thursday (9 March), and is predicted to sell for close to £20,000
Initially, the guitarist wasn't expected to use the model in question for this live show. The footage shows Berry only using the Firebird after breaking a string towards the end of his set and resorting to it as a backup option. Check out the moment at the one-hour, sixteen-minute mark below.
The guitar is being sold by a private collector, who purchased it from the family of its owner, Terry Gibson. Gibson, whose real name was Terry Clemson, was a renowned guitarist who performed with artists including Gene Vincent and Bo Diddley.
As stated on the listing, Gibson purchased the guitar in 1964, back when it had its original sunburst finish. At some point between then and 1972, the guitar was refinished in black and remains like that today. The strap included in the sale is also thought to have been worn by the Johnny B. Goode artist.
Other guitars are also set to be auctioned at next week's event. These include a Martin D-35, owned by Pete Townshend and a 1995 Parker Fly Deluxe, used in the studio by Jeff Beck.
Find out more on Gardiner Houlgate's website.
The post An ultra-rare 1964 Gibson Firebird used by Chuck Berry predicted to sell for £20,000 at auction appeared first on Guitar.com | All Things Guitar.
Source: www.guitar-bass.net