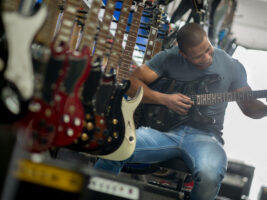 Black Friday Deals 2023: top savings on guitars, effects and amps
It's here – the most wonderful time of the year! Yes, Black Friday and Cyber Monday are fast approaching, meaning you'll want to be ready to grab the best deals you can on guitar gear.
READ MORE: The 10 best audio interfaces for guitarists in 2023
Taking place on 24 November, Black Friday is when countless guitar retailers offer hefty discounts on their products. There's no better time to invest in your rig with a new amplifier, pedal or guitar – and with the holiday season right around the corner, it's also a great time to pick up some gifts for the musicians in your life.
So, whether you're looking to save money, expand your collection, or buy that dream guitar you've been eyeing all year, Black Friday deals are something every guitarist should look forward to. We've created this one-stop-shop to cover all of the best deals you can find across the biggest and best guitar retailers – be sure to stop by here before digging out your card details!
Black Friday 2023: Everything guitarists need to know
Black Friday is the perfect time to invest in a new guitar or expand your pedalboard, or even start your musical journey. Retailers offer substantial discounts on a wide range of products, from guitars and amplifiers to pedals and accessories, meaning you can often find high-quality equipment at a fraction of the original price.
What are Black Friday and Cyber Monday?
Image: Zero Creatives / Getty
Black Friday and Cyber Monday are two of the biggest shopping days in the United States. They take place on the Friday and Monday after Thanksgiving, respectively. Some say that the term Black Friday was first used by Philadelphia police officers in the 1960s to describe the chaos and traffic caused by shoppers and tourists who came to the city for the holiday weekend. But another explanation for the name is that it's the day that retailers would go from making a loss to making a profit – from being 'in the red' to 'in the black'.
The term Cyber Monday was coined in 2005 to describe the trend of online shopping that spiked on the Monday after Thanksgiving. For a long time, it was a more online-focused day of deals, but now Black Friday is as much as about online deals as is it is high-street chaos.
Both days offer huge discounts and promotions for consumers, who spend billions of dollars on various products and services. Black Friday and Cyber Monday have become global phenomena, as online retailers around the world participate in these events.
When are Black Friday and Cyber Monday?
2023 Black Friday officially falls 24 November, However, you can expect deals to start appearing well before that – some retailers will unveil their biggest deals in the weeks before the day itself, others will run some smaller teaser deals throughout November.
Discounts will also continue until Cyber Monday on 27 November – but after this, it's the end of the biggest savings.
But until then, this is your go-to destination for all the info you could need on the best deals available out there.
Which retailers will be offering deals on guitar gear this Black Friday?
You can expect all the major guitar retailers to offer some hefty discounts this Black Friday – here are the ones you should keep an eye on:
Guitar Center
Thomann
zZounds
Andertons
Sweetwater
Gear4Music
Amazon
The post Black Friday Deals 2023: top savings on guitars, effects and amps appeared first on Guitar.com | All Things Guitar.
Source: www.guitar-bass.net