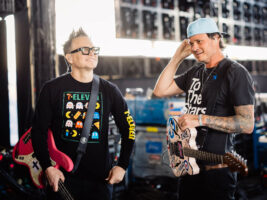 Blink-182 strongly hint at release date of new music – and it's very, very soon
Blink-182 have finally revealed the release date of their new music after months of teasing.
READ MORE: "Reuniting the original G3 lineup is a dream come true": Joe Satriani, Steve Vai and Eric Johnson set for G3 reunion tour next year
Last month, guitarist Tom DeLonge confirmed that the band's new album is imminent. The band also shared a short video encouraging fans to "stay tuned".
The past few weeks, in particular, saw the pop-punk trio teasing their new material with posters containing the Blink-182 logo and the phrase 'One more time…', along with a link to a website playing various classic songs and a brief snippet of the upcoming music.
And now, the band has put an end to the mystery with a new teaser featuring a digital clock that reads 9:21 and switches between AM and PM — all of which points to a 21 September release date.
https://t.co/O1Wh73pTMC pic.twitter.com/KlAyORwM3H
— blink182stall (@blink182stall) September 12, 2023
September 21st
Clear your schedule pic.twitter.com/xPPtNBRtPb
— blink-182 Italia (@blink182italia) September 12, 2023
The forthcoming record will mark Blink-182's first album with DeLonge back in the fold. The guitarist re-joined in October of 2022 after nearly 10 years apart from remaining original members Mark Hoppus and Travis Barker. Together, the trio have released the single Edging.
Speaking to Fender earlier this year, DeLonge said of the band: "You know, we came from broken homes. We came from broken families. So we wanted to viciously attack with happiness, and humour, and energy, and speed. And so it was very much like forcing happiness with brute strength, you know? And that's what the band's always been about."
He also teased that the upcoming release will be the "best album we've ever made."
The post Blink-182 strongly hint at release date of new music – and it's very, very soon appeared first on Guitar.com | All Things Guitar.
Source: www.guitar-bass.net