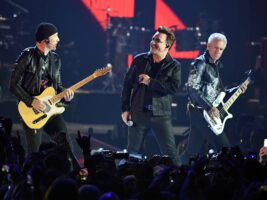 Bono admits ever U2 member has "thought about walking away" from the band
U2 frontman Bono has admitted that every band member had contemplated leaving the band throughout their long career.
READ MORE: Wolfgang Van Halen recalls how his dad's handling of Frankenstein made "everybody in the room gasp"
Speaking candidly on the band's upcoming Disney+ documentary, A Kind of Homecoming, the singer whose real name is Paul David Hewson, admitted that he "certainly thought about walking away", says a report by the Daily Mail.
"We have all thought about it," the frontman admits. "It is the right instinct to question whether this should still be going and what it demands of all four members.
'But the reason why I want to go forward is something is stirring in my voice and my singing and the desire to write songs we don't have yet," he continues. "We are chasing the dragon of the song we can't get.
"The real magic of U2 is that everything we needed, the people we needed, were always right there."
Meanwhile, U2 guitarist The Edge AKA David Howell Evans shared that it was "remarkable" that the group stayed together, admitting that there had been a "lot of tension" throughout the years.
"We are probably a little institutionalised by being in this thing a little too long. There are many times in the past I think we were pushing our look a little too far. It was hard for us. There was a lot of tension."
This comes months after Bono revealed in his autobiography that the band take "full responsibility" for the U2 album that was infamously added to everyone's iPhone back in 2014. Bono admitted back in October that he intended the move to be a "gift" for fans, but has since "learned a lesson" from the chaos that was caused.
Bono & The Edge: A Sort of Homecoming, with Dave Letterman will be premiering on Disney+ on March 17.
The post Bono admits ever U2 member has "thought about walking away" from the band appeared first on Guitar.com | All Things Guitar.
Source: www.guitar-bass.net