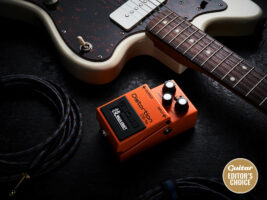 Boss DS-1W Waza Craft review: The original, but better
Forget what the blues lawyers tell you – the most important pedal of all time isn't the Tube Screamer – it's the Boss DS-1. Why? Well in the last 40 years Boss has shipped over 1.5 million DS-1s – it's very likely the best selling effects pedal of all time, and with that comes a level of cultural penetration that nothing else can really compete with. People who've never picked up a guitar in their lives know that when you want the fun noise to come out of a guitar, you step on the orange and black switch-y thing on the floor. Go ask the man in the street to draw you a guitar pedal – chances are the result will be orange with three knobs and a black footswitch on it. It's part of the language of guitar playing that everyone understands.
READ MORE: Gretsch G5232T Electromatic Double Jet FT with Bigsby review – that great Gretsch sound
But perhaps because of this, and perhaps because it is often the default first pedal many of us buy, the DS-1 doesn't often get a lot of love. Despite being a cornerstone of countless hit records and iconic guitar parts for four decades, in this modern era of boutique effects and Insta-ready pedalboards, it seems like the humble default distortion pedal is often seen as a dirty stepping stone rather than a destination in itself.
The DS-1W aims to change all that, by taking the iconic DS-1 circuit and giving it a Japan-made overhaul that looks to force the pedal back into the conversation here in 2023. But the DS-1W is more than just a Japanese-built version of the DS-1 with a 70s-style silver battery compartment thumbscrew and a 100 per cent price increase. Nuzzled in the middle is a tiny mode switch that allows you to switch between standard and custom voicings. The former is ostensibly a classic unmolested DS-1 sound, while the latter is an all-new voicing that promises to rectify some of the criticisms that are commonly levelled at the pedal's sound. Sounds a bit like having your cake and eating it, but let's dive in.
In use
We feel obliged to start with the standard mode, and without labouring the point too much we can confirm that yes it does sound pretty much exactly like our reference bog standard DS-1 – a little warmer perhaps, but broadly identical. With the knobs dimed you get that classic raspy buzz-saw distortion that has driven everyone from Kurt Cobain to Steve Vai, though turning up the distortion knob does cause the sound to verge on wasp-in-a-jam jar levels of fizz, with the mids getting thin enough to become a little jarring. For many players of course, this is part of the DS-1's charm and this Waza version would be remiss to not include it.
The 'custom' mode however, wants to do something about it, promising a 6dB gain boost combined with a more focused midrange and increased touch response.
To be honest, they might has well have labelled this the 'sound better' switch, because as soon as we flicked it on we had absolutely no interest in flicking it back to the standard setting. The signal boost is noticeable, but so is a fattening up of the midrange which allows you to turn that distortion knob all the way up without losing the thickness and body of your guitar's tone, with plenty of pick attack and note separation to boot.
Some might baulk at the prospect of paying £120 for a DS-1, and if you truly love the sound of that original circuit, you might be perfectly content with a standard version. For those of us who perhaps consigned the DS-1 to a less sonically discerning past, however, the Waza Craft version is a transformative experience – a DS-1 that knocks off all the rough edges and lets you bask in the glory of one of the most iconic circuits ever.
Key Features
PRICE £119
TYPE Distortion pedal, made in Japan
CONTROLS Level, distortion, tone, mode switch
FEATURES 9V battery power or centre-negative PSU
CONTACT Boss
Like this? Try these
Boss DS-1 (£65)
MXR Custom Badass '78 Distortion (£99)
JHS 3 Series Distortion (£99)
The post Boss DS-1W Waza Craft review: The original, but better appeared first on Guitar.com | All Things Guitar.
Source: www.guitar-bass.net