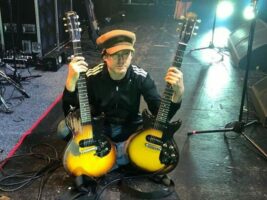 Carl Barât recovers stolen guitars, thanks "beloved net detective friends" for help
Libertines frontman Carl Barât has recovered his guitars after they were stolen ahead of Dirty Pretty Things rehearsals earlier this May.
READ MORE: "You've got to take it easy," onlooker tells brawlers at Eagles concert fighting during Take It Easy
On 18 May, Barât issued an appeal for the return of his stolen guitars via Twitter, asking fans to help "spread the word" about the theft.
"In the early hours of this morning, two of Carl's most treasured guitars were stolen in the Homerton area of London, as Dirty Pretty Things rehearsals were about to commence," read the post, which included several pictures of the guitars.
"These guitars hold an unfathomable amount of sentimental value so any news on their whereabouts would be greatly appreciated, the police have already been informed. Please spread the word and DM if you have any info x."
The post was also reposted by The Libertines' official Twitter account alongside the caption: "PLEASE HELP IF YOU CAN x."
PLEASE HELP IF YOU CAN x https://t.co/SfrBxNvE1c
— Libertines (@libertines) May 18, 2022
It appears that luck is on Barât's side, for yesterday (30 June), the musician posted a photo on Instagram, announcing that the guitars have been found with the help of some talented fans.
"Blissed out to hold these guys again. Thank you to all my beloved net detective friends," he wrote, coupled with the hashtags "#netdetectives #dontf**kwithbarats #cyberdinesystems #sherlockgnomes".
 
View this post on Instagram
A post shared by Carl Barât (@carlbarat78)
In other news, Libertines co-founder Pete Doherty recently shared that the band has plans to record a new album in Jamaica.
Speaking in an interview with The Guardian, Doherty said, "We still feel there's unfinished business and there are more songs to write. But [Barât] doesn't want to do it in England, or in France, which he sees as my turf. So the plan is to go to Jamaica and try to make another Libertines record."
The post Carl Barât recovers stolen guitars, thanks "beloved net detective friends" for help appeared first on Guitar.com | All Things Guitar.
Source: www.guitar-bass.net