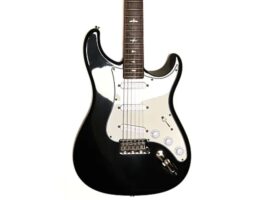 Carlos Santana's PRS Silver Sky prototype has appeared on Reverb
Reverb is home to many gems, such as instruments from Wilco's Chicago studio, to one of Gibson's first ever electric basses. In the past week, however, eagled-eyed shoppers might have spotted a PRS prototype of their Silver Sky John Mayer signature model, formally owned by Carlos Santana.
READ MORE: Noel Gallagher thinks Johnny Rotten is "one of the greatest British people of all time"
Carlo Santana's PRS Silver Sky John Mayer signature model 2017 prototype is one of the many guitars that the PRS team made in the development stage. Despite this, the particular prototype in question is referred to as the 'MAGIC' guitar because it was used to clone all the others.
Their artist relations team then sent the guitar to Santana for personal evaluation. According to the seller, this instrument is "actually the birth, the mother, and blueprint of all the others that were built," and the "holy grail of modern guitars"
The Silver Sky models does don a similar look to the Fender Stratocaster, but according to Reverb, outsold all USA-made Fender Strat models on the site in 2021.
The guitar on offer has an Onyx finish and comes with a rosewood fretboard and maple neck. As well as this, it comes with a signed verification letter from Paul Reed Smith himself, as well as another from the PRS Director of Sales. There is also a hard case.
While this guitar may sound great in practice, it is currently selling for €75,000, or just under $83,000. Luckily the shipping is free, but it is non-refundable.
If this guitar is for you, you can check out the listing on Reverb.com.
The post Carlos Santana's PRS Silver Sky prototype has appeared on Reverb appeared first on Guitar.com | All Things Guitar.
Source: www.guitar-bass.net